MULTI-PLATINUM ARTIST SANDI PATTY SET TO RELEASE NEW ALBUM EXCLUSIVELY AT TARGET
Also readying for "Sandi Patty & Friends" cruise in 2014!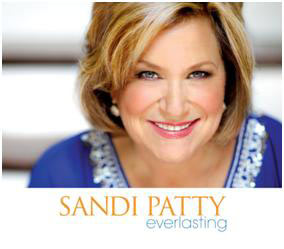 NEWS SOURCE: Big Machine Media
July 10, 2013
(New York, NY - June 10, 2013) -Grammy Award-winning contemporary Christian music superstar, Sandi Patty, has some major announcements that will certainly please her long-awaiting fans. This August, Patty will be releasing a new album titled, Everlasting, which will debut exclusively at Target through Somerset, Ltd on September 3rd. Almost a full two years will have passed since Patty's last album, Broadway Stories, which included some of Patty's favorite Broadway and musical tunes.
Everlasting will feature notable hymns and songs of worship in an intimate and acoustic setting. Although this differs from Patty's usual full symphony style, her unique and iconic signature vocals are felt throughout. She states, "I have always been drawn to the lyrics and the message of a song. And these songs have been, for my life, the lyrics and the message that I have needed. I am grateful for these simpler days in my life, as most of our eight kids are grown. I think the style of these songs on this project reflect the simpler, gentler, laid-back side of life." Songs will include a brand-new acoustic recording of Patty's number one radio hit "Another Time, Another Place" with Wayne Watson, as well as the popular worship song, "10,000 Reasons," which recently won a Grammy for Best Gospel/Contemporary Christian Music Performance and Best Contemporary Christian Music Song. Starting in early 2014, Sandi Patty will take the songs on the road for an "Everlasting Tour" across the nation.
Tracks will include:
God & King
10,000 Reasons
Revelation Song
He Touched Me
Another Time, Another Place
Agnus Dei
Bridge Over Troubled Water
Go Rest High On That Mountain
He Looked Beyond My Fault
How Great Thou Art
Does Jesus Care
Eternal LIfe
In Christ Alone
The Lord's Prayer
Patty is the most awarded female vocalist in contemporary Christian music history, with five Grammy Awards, four Billboard Music Awards and 40 Dove Awards during her illustrious 30-year career. She has sold more than 11 million records, with three certified platinum and five certified gold, earning her the name "The Voice."
Sandi Patty has had quite the year already with another ever-famous performance of the Star Spangled Banner at the 97th Indy 500, touring all over the country, and helping victims of the Oklahoma tornadoes. Later this year, Patty will be hosting "Duke Energy's Yuletide Celebration" for the sixth time with the Indianapolis Symphony Orchestra. Along with the Everlasting Tour in 2014, Patty will also be celebrating the 30th anniversary of the Grammy Award winning song, "More Than Wonderful" with Larnelle Harris, through a brand new recording of the song which will be done on a Caribbean cruise. Opportunities will include participating in the recording, attending workshops related to choir members, praise team members and church music directors or just relaxing in the sun! For more information and to secure a spot on this cruise, please visit: www.inspirationcruises.com/SPC or call 855-700-4966.
For more information and to stay up to date with Sandi Patty, please visit:
sandipatty.com
facebook.com/Sandi.Patty.Music
twitter.com/SandiPattyP
youtube.com/user/sandipattymusic