NEWSONG'S 'WHO LOVED YOU FIRST' VIDEO
TO WORLD PREMIERE ON USATODAY.COM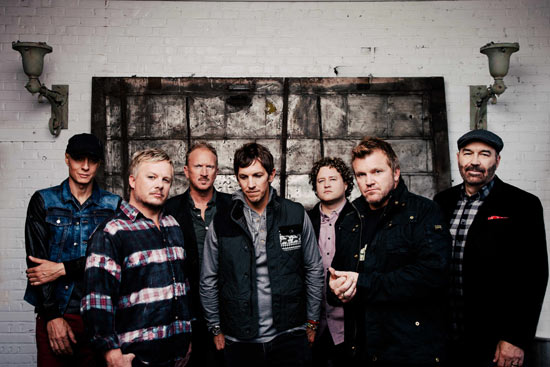 NEWS SOURCE: Turning Point PR
July 26, 2013
NASHVILLE, Tenn.-"Who Loved You First," the new video from GRAMMY® Award-nominated recording artist NewSong, is slated to world premiere on USATODAY.com Monday, July 29, beginning at midnight. In conjunction with the premiere, USATODAY.com will post coverage on the video and song, including comments from NewSong's Matt Butler. The video may be viewed by accessing the Music area of the Life section, via the USATODAY.com homepage.
Directed by Nathan Corrona for Dustbrand Films, the treatment for "Who Loved You First" was shot this spring in Atlanta. The clip combines performance footage of NewSong with a powerful storyline focusing on a homeless man.
Penned by Tyrus Morgan, Cliff Preston, Brent Milligan, and Chris Stevens, "Who Loved You First" is featured on NewSong's best-selling 18th career recording, Swallow The Ocean, released earlier this year. The single was recently serviced to Christian radio.
Founders and hosts of the internationally top-ranked Winter Jam Tour Spectacular-the #1 tour in the world (first quarter) for three consecutive years-NewSong's unparalleled legacy includes 18 albums, 20 #1 Christian radio singles, a Dove Award and a GRAMMY® Award nomination, in addition to being inducted into the Georgia Music Hall of Fame, among numerous other achievements. The band's three-decade career boasts such defining songs as "The Christmas Shoes," "Arise, My Love," "Rescue," and their 2012 hit, "The Same God."
USA TODAY, the nation's number one newspaper in print circulation with an average of nearly 1.8 million daily, and USATODAY.com, an award-winning newspaper website launched in 1995, reach a combined 6.6 million readers daily. USA TODAY is a leader in mobile applications with more than 15 million downloads on mobile devices. USA TODAY is owned by Gannett Co., Inc.
For further information, visit www.newsongonline.com
###
For more info on NewSong visit the JFH Artists Database.