B&H Books to Publish Two Titles Based on New Film GRACE UNPLUGGED, Coming to Theaters Oct. 4

OWN IT by Michael and Haley DiMarco helps readers deepen their walk with God; GRACE UNPLUGGED novel unlocks the moving and meaningful story of the film hailed as "one of the best, most entertaining Christian movies ever made"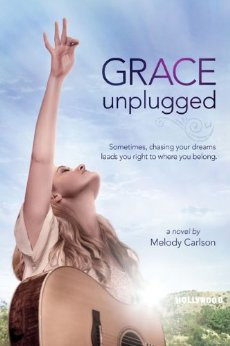 NEWS SOURCE: Grace Hill Media
August 6, 2013
(August 6, 2013) - GRACE UNPLUGGED won't hit theaters until Oct. 4, but B&H Books is ensuring those excited about this faith-affirming movie won't have to wait until then to experience its moving and meaningful content.
B&H will release a pair of books based on the film Sept. 1: GRACE UNPLUGGED, a novelization of the script, written by Melody Carlson; and OWN IT, by Michael and Hayley DiMarco, which challenges readers to begin developing a belief in God that is truly their own - mirroring the journey of the movie's title character.
In the film, Grace Trey (played by platinum-selling record artist and actress AJ Michalka) has just turned 18 and aspires to do more than sing in her church's worship band, which is led by her father, Johnny Trey (James Denton), a one-time pop star who gave up his life in secular music when he became a Christian. Grace longs to escape his shadow and make a name for herself singing songs about something other than God, but Johnny warns her that fame is not as glamorous as it looks and reminds her that serving and worshipping God with the talent she's been given is a far more worthwhile goal.
When Johnny's former manager, Frank "Mossy" Mostin (Kevin Pollak), shows up 20 years after the two parted ways to offer him another shot at the big time, Johnny declines the opportunity. But Grace takes it - without telling her parents. She records a cover version of her father's old Top 10 hit, runs away to Los Angeles and, under Mossy's guidance, begins to taste the kind of success she's always dreamed of. But with each rung of the ladder she climbs, Grace feels pressure to compromise her Christian values and learns not everyone who says they're on her side really is. The one exception is Quentin (Michael Welch), an intern at her record company and a fellow Christian who urges Grace to reassess her choices and put God first again in her life. Will everything she experiences lead her to reject her faith .. or rediscover it?
The movie is earning rave reviews from preview audiences, with the Dove Foundation giving it a "5 Dove" review for family-friendliness and Dr. Ted Baehr of Movieguide calling it "tremendous" and "one of the best, most entertaining Christian movies ever made."
"I'm hoping we prompt a lot of dialogue between families, that this movie is a conversation starter," said writer/director Brad J. Silverman, who consulted on the books. "At the end of the day, I don't miss the fact that this is entertainment. But when the movie is over, and the audience reflects on what they've seen, I want Christians to say, 'Wow. I love God.' " B&H has similar hopes for the books - as well as Bible study guides for adults and students also set for release on Sept. 1. Carlson's novel will allow readers to dig a little deeper into Grace's choices and challenges, while OWN IT will equip them to face similar challenges themselves. The title comes from a book that appears in the movie, given to Grace by Quentin to help her discover where she truly belongs even as she chases her dreams.
"Do you own your faith? Do you rent it? Or do you borrow it from your friends or family?" asks Russ Rice, one of the film's producers and a consultant on the books. "Those are the questions Grace has to answer, and I hope the movie's audience and the books' readers answer them, too."
About Melody Carlson
Melody Carlson has written around 200 books for teens, women and children. That's a lot of books, but mostly she considers herself a "storyteller." Her books range from serious issues like schizophrenia (Finding Alice) to lighter topics like house-flipping ("A Mile in My Flip-Flops") but most of the inspiration behind her fiction comes right out of real life. Her young adult novels ("Diary of a Teenage Girl," "TrueColors," etc.) appeal to teenage girls around the world. Her annual Christmas novellas become more popular each year. She's won a number of awards (including the Rita and Gold Medallion) and some of her books have been optioned for film/TV. Carlson has two grown sons and makes her home in the Pacific Northwest with her husband and yellow Lab dog. To find out more about Melody Carlson, visit her website at http://www.melodycarlson.com/
About Michael DiMarco
Michael DiMarco is a bestselling and award-winng Christian author, and publisher and creative director at Hungry Planet. Michael has authored or co-authored a number of books including "God Guy", "Devotions for the God Guy", "Die Young", "Over It", "The Brave", "Almost Sex", "Unstuff", "Cupidity", "B4UD8" (Before You Date), and the "God Guy Bible" among others. He is married to an even more bestselling author, Hayley DiMarco, and father to their daughter.
A packager and content provider, Hungry Planet partners with publishers to produce book concepts that connect with teens and adults who live life with a multi-tasking mindset. Hungry Planet's first book "Dateable: are you? are they?" hit shelves in Fall 2003. In the short span since, Hungry Planet has published almost 40 titles and has sold over 1.2 million books. In addition, over 22 titles have appeared on CBA Bestseller lists. Seven Hungry Planet titles have named as finalists for the ECPA Christian Book Award for Youth, with "Sexy Girls" winning the award in 2007 and B4UD8 winning in 2010.
On average, Hungry Planet publishes between 2-3 books every year; books known for their cutting edge interior design and award winning book covers.
Hungry Planet - "Feeding the World's Appetite for Truth"
http://www.hungryplanet.net
www.MichaelDimarco.com
www.Twitter.com/dimarco
About Hayley DiMarco
Hayley DiMarco is the best-selling author of more than thirty books, including "Dateable", "Marriable," "Mean Girls," "The Woman of Mystery," and "Cupidity." She spent the early part of her career working for a little shoe company called Nike in Portland, Oregon and Thomas Nelson Publishers in Nashville, Tennessee. In 2002 Hayley left Nelson and founded Hungry Planet, a company intensely focused on feeding the world's appetite for truth by producing books and new media, taking on issues of faith and life with a distinctly modern voice. Shortly after founding Hungry Planet, Hayley successfully completed a nationwide executive search for someone to run the company so she could focus on writing. She describes her husband, Michael, as her most successful business acquisition! www.HayleyDimarco.com