GRAMMY® Winner Chris Tomlin Celebrates RIAA Gold Certifications for And If Our God Is For Us… and
Glory In the Highest: Christmas Songs of Worship

Burning Lights Deluxe Tour Edition CD & DVD set
to release October 29

"Burning Lights Tour" to continue in 22 cities this fall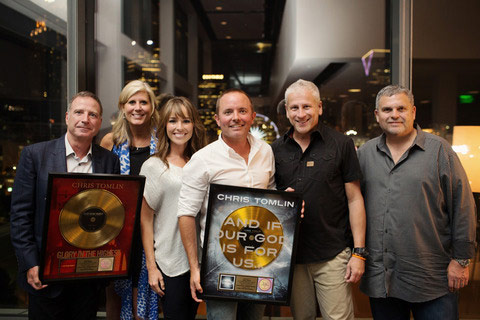 Photo Credit: Mary Caroline Mann
From L to R: Capitol CMG's Bill Hearn, sixstepsrecords' Shelley Giglio, Lauren Tomlin, Chris Tomlin,
Louie Giglio and Capitol CMG's Peter York
NEWS SOURCE: The M Collective
August 7, 2013
Nashville, Tenn. (August 7, 2013) – GRAMMY® winner and multi-platinum recording artist Chris Tomlin is celebrating the RIAA Gold certifications for his 2010 album
And If Our God Is For Us
... and his 2009 Christmas album
Glory In The Highest: Christmas Songs of Worship
.
And If Our God Is For Us
... was awarded a GRAMMY Award for Best Contemporary Christian Music Album in 2012 and
Glory In The Highest: Christmas Songs of Worship
peaked at No. 1 on Billboard's Holiday albums chart.
Speaking at a special event in Atlanta this week attended by his sixstepsrecords team including Louie and Shelley Giglio, as well as Capitol Christian Music Group's Bill Hearn, Peter York and many others, Tomlin commented, "I'm so honored to celebrate these two Gold records. It takes an incredible team! My name may be on the plaque, but I know all the work that goes in to it from many, many people and I am so grateful. I am honored to write songs for the Church. Long after Gold records fade, record labels fade and the earth fades, the Church will stand. I am so humbled to be a part of that Church."
The RIAA Gold certifications add to a long list of accolades for Tomlin this year, including his No. 1 Billboard debut for Burning Lights, which was the biggest first-week sales numbers of his career and only the fourth time in history that a Christian music album has accomplished this feat. Burning Lights is also the Best Selling Christian Album of 2013 so far (based on first six month sales). His "Burning Lights Tour" was the most successful tour of his 13 year career, showing a 53% increase in average show attendance and selling out 25 shows in major U.S. markets including New York, Los Angeles, Houston and Chicago. Additionally, Houston, Los Angeles, Pittsburgh and Seattle each saw ticket sales in excess of 10,000.
The final night of the spring run, also a sell out show at Denver's famed Red Rocks Amphitheatre, was filmed before an enthusiastic crowd for what will be Tomlin's first Live DVD project. The two-disc Burning Lights Deluxe Tour Edition, due out October 29, will include the live DVD along with the Burning Lights CD. The packed-full project will feature a glimpse into Tomlin's full live tour experience and will feature the powerful moments of "Whom Shall I Fear (God of Angel Armies)," "Revelation Song" performed with Kari Jobe and Louie Giglio's full 45 minute talk.
Tomlin has also recently announced dates for the continuation of "The Burning Lights Tour" this fall, which will hit 22 cities across the country beginning October 3rd, and once again feature friend and pastor of Passion City Church/Communicator/Passion founder, Louie Giglio. Full tour details are listed below.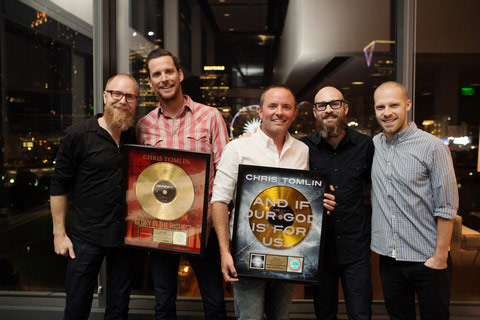 Photo Credit: Mary Caroline Mann
From L to R: Matt Gilder, Jesse Reeves, Chris Tomlin, Travis Nunn and Daniel Carson



Photo Credit: Mary Caroline Mann
"Burning Lights Tour" Fall 2013 Dates
www.ChrisTomlin.com/tour
October
3 Charlotte, NC
4 North Little Rock, AR
5 Memphis, TN
10 Nashville, TN
11 Pensacola, FL
12 Birmingham, AL
13 Lexington, KY
16 Cleveland, OH
17 Columbus, OH
18 Chicago, IL
19 Johnstown, PA
20 Raleigh, NC
24 Grand Rapids, MI
25 Quad Cities, IL
26 Milwaukee, WI
30 New York, NY
November
1 Washington, D.C.
2 Boston, MA
3 Salisbury, MD
5 Gainesville, FL
7 Shreveport, LA
8 Atlanta, GA
About Chris Tomlin
With nine albums, 12 No. 1 radio singles, a GRAMMY® Award and eight additional nominations, two Billboard Music Awards, 21 Dove Awards, a platinum and four gold albums to his credit, Chris Tomlin is among the most well-known and influential artists in contemporary Christian music. Referred to by Time magazine as "most likely the most often sung artist anywhere," Tomlin also has 15 of the Top 100 CCLI songs with 4 of them being in the top 10. ASCAP's 2007 Songwriter of the Year, Tomlin's "How Great Is Our God" was his first No. 1 on the CCLI Top 25, moving to No. 1 after becoming one of the fasting rising modern day hymns in CCLI chart history. In addition to having sold more than 4.2 million albums and over 6 million digital tracks, Tomlin made history as his single "Jesus Messiah" (Hello Love) garnered 97 adds at radio its first week and skyrocketed to No. 1, making it the biggest ever add date in Christian radio history. In the midst of his record breaking success, and continuing his role as worship leader at Passion City Church in Atlanta, GA, Tomlin continues touring and leading at Passion Conference gatherings across the US and worldwide. His ninth studio album, Burning Lights, was released on Jan. 8, 2013, and features the hit single "Whom Shall I Fear [God of Angel Armies]."
[Get Connected with Chris Tomlin]
Web site // http://www.christomlin.com
Facebook // http://www.facebook.com/christomlin
Twitter // http://www.twitter.com/christomlin
###
For more info on Chris Tomlin visit the JFH Artists Database.