Zondervan to Release Country Faith from Today's Top Country Artists on November 5, 2013
Project to Include Favorite Scriptures from Such Artists as Carrie Underwood, Miranda Lambert, The Band Perry, Brad Paisley
and Many Others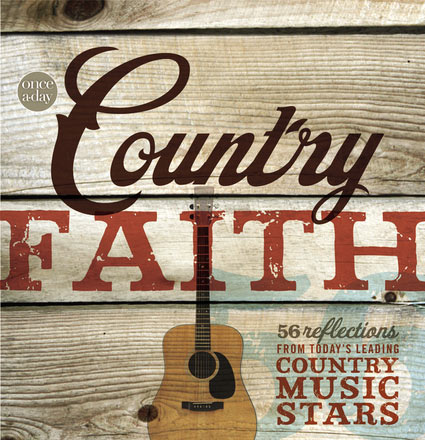 NEWS SOURCE: Bozeman Media
August 19, 2013
Grand Rapids, MI (August 19, 2013) ---- Zondervan announced today the company's first country devotional book to be published on November 5, 2013.
Country Faith
($12.99, ISBN 9780310422938) features the favorite scriptures of today's top country stars, along with a description of why the Bible passages resonate with them and how it impacts their daily spiritual walk. Fifty-six country artists took part in the project that includes Carrie Underwood, Miranda Lambert, The Band Perry, Brad Paisley, among many others. Renowned music journalist, Deborah Evans Price, conducted the interviews and compiled the stories that are sure to become a treasured keepsake for fans worldwide.
"Country Faith is one of the most meaningful projects I've ever had the privilege of working on," says Price. "This book provides artists a chance to share their faith and the revelations in these pages are insightful and inspiring. Country Faith has been a blessing to me and I'm sure it will deeply touch those who read it."
Country Faith gives the reader an intimate look into the private side of these country celebrities as they discuss their heartfelt faith and what it means in their lives.The hardcover devotional exposes a variety of Bible scriptures that have become so personal to these artists and by reading their comments and thoughts, these selections are certain to have an impact with the book's audience also. It's comparable to sharing a daily devotion with your favorite country legend as you sit in your easy chair at home, which will make you view these talented artists in a whole new way.
A portion of the sale of every Country Faith will benefit Danny Gokey's charity, Sophia's Heart Foundation. Gokey started the foundation following the death of his first wife from a heart condition in 2008, and the foundation exists to help mend and heal the hearts of children and families who have been touched by poverty, sickness, disease, broken homes and broken dreams.
About Zondervan
Zondervan, part of HarperCollins Christian Publishing, is a world leading Bible publisher and provider of Christian communications. For more than 80 years, Zondervan has delivered transformational Christian experiences through its bestselling Bibles, books, curriculum, academic resources and digital products. The company's products are sold in multiple formats, worldwide in more than 60 countries, translated into nearly 200 languages. The Company's mission is to be the leading company in Christian communication, meeting the needs of people with resources that glorify Jesus Christ and promote Biblical principles. Zondervan offices are located in Grand Rapids, MI.
# # #