DARA MACLEAN LAUNCHES PRE-ORDER AND REVEALS TRACK LISTING FOR SOPHOMORE ALBUM, WANTED, DUE OUT ON SEPTEMBER 24
Title Track / Lead Single Climbs to No. 8 at Hot AC/CHR
NEWS SOURCE: Word Entertainment
August 20, 2013
Nashville, TN - (August 20, 2013) - Fervent Records' soulful singer/songwriter Dara Maclean's sophomore effort
Wanted
, due out on September 24, is available for pre-order now at DaraMaclean.com. The album's title track and lead single climbed to No. 8 at Hot AC/CHR and jumped two spots to No. 28 at NCA. Produced by Paul Mabury (All Sons & Daughters, Hillsong, Meredith Andrews),
Wanted
is the eagerly-awaited follow-up to Maclean's debut album, You Got My Attention, which entered the iTunes Christian & Gospel Albums chart at No. 1 in 2011 and garnered her a spot as one of their "New Artists to Watch."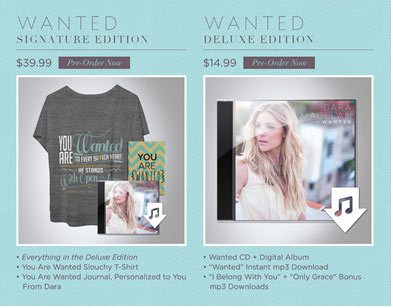 Fans of Maclean can pre-order two Wanted-themed packages featuring the album, two bonus songs, a "Wanted" lyric top and a journal which Dara will personalize for each fan.
Wanted Deluxe Edition - $14.99
* Wanted CD + Digital Album
* "Wanted" Instant mp3 Download
* "I Belong With You" + "Only Grace" Bonus mp3 Downloads
Wanted Signature Edition - $39.99
* Everything in the Wanted Deluxe Edition
* You Are Wanted Slouchy T-Shirt
* You Are Wanted Journal, Autographed and Personalized to You From Dara
For Maclean, both a passionate artist and advocate for the International Justice Mission, an organization that is pioneering the fight against human trafficking, this album is much more than just a compilation of songs. "This album is for those broken, the lost and the ones in need of rescue. It's for me and it's for them, whether 'they' are next door or halfway across the world. This record is a reminder that through God's grace and redemption, He has made us good enough, He sees us as 'blameless.' We've been forgiven and we can find the peace, satisfaction and rest we're looking for in Him," said Maclean. "This record is my mouthpiece to raise the volume of the already screaming heartbeat of the Father, crying 'Set My People Free.' When life hits in the hardest ways, and you need peace and you need an answer, let's take Him at His word and together learn about truth, discover sustaining hope and put all of our trust in the only answer, God."
During the past two years Maclean, who embraces songwriting equally as much as being a vocalist, wrote heavily in preparation for this album. She co-wrote each of the 12 tracks on Wanted and loved getting to write with some of her favorites including Paul Mabury, Jason Ingram (Brandon Heath, Bebo Norman), Dave Barnes (Blake Shelton, Bebo Norman) and Cindy Morgan (Amy Grant, Mark Schultz).
Wanted Track Listing:
1. Wanted
2. Our Only Hope
3. Set My People Free
4. Love Is
5. Good Enough
6. Step Into The Light
7. Blameless
8. You Are All I Need
9. Nobody But You
10. I Am Blessed
11. Made
12. Find Rest
In September, Maclean will be appearing at Rock The Universe in Orlando, FL, and the "Girls of Grace" conference in Houston, TX, prior to joining Casting Crowns out on the road. For further details, please visit www.DaraMaclean.com.
Dara Maclean's Upcoming Tour Dates:
Aug. 20: Victory Bible Institute - Tulsa, OK
Sept. 6-7: Rock The Universe - Orlando, FL
Sept. 21: Girls of Grace - Sugar Land, TX
Sept. 28: First Christian Church - Wauchula, FL
Oct. 3: The Shield w/ Casting Crowns - Mountain Home, AR
Oct. 4: Jack Howard Theater - Monroe Civic Center w/ Casting Crowns - Monroe, LA
Oct. 10: International Community Church w/ Casting Crowns - Frederick, MD
Oct. 11: Temple Baptist Church w/ Casting Crowns - New Bern, NC
Oct. 12: Stabler Arena w/ Casting Crowns - Bethlehem, PA
Oct. 17: Viaero Event Center w/ Casting Crowns - Kearney, NE
Oct. 18: Heritage Hall w/ Casting Crowns - Adrmore, OK
Oct. 24: First Baptist Church w/ Casting Crowns - Lafayette, LA
Oct. 25: Whitesburg Baptist Church w/ Casting Crowns - Huntsville, AL
Oct. 26: Crossroads Arena w/ Casting Crowns - Corinth, MS
About Dara Maclean:
Powerful vocalist and songwriter Dara Maclean first sparked the music industry's interest with her 2011 debut, You Got My Attention. The album introduced a powerful new voice in Christian pop, steeped in Motown and soul and beaming a heart for the broken and struggling. The LP reached the Top 10 on Billboard's Christian Albums chart, and album tracks "Suitcases" and "Free" each hit the Top 20 on Billboard Hot Christian Songs chart. "Suitcases" appeared on the 2012 installment of WOW Hits, celebrating Christian radio's biggest songs, and You Got My Attention closer "Home" was included in The Bible: Music Inspired By The Epic Mini-Series, a companion to the smash History Channel series. The Texas-bred singer-songwriter earned a New Artist of the Year nomination in the 43rd Annual GMA Dove Awards, and spent nearly two years straight on the road with some of Christian music's biggest names, including Casting Crowns and Newsong, and on major tours including Winter Jam and the KLOVE Acoustic Christmas Tour. Maclean has earned high critical praise throughout, NewReleaseTuesday including her among its Top 10 New Female Christian Singers in 2012, noting that "Dara displays the strongest vocals I've heard in years." Maclean is also passionate about raising awareness and bringing an end to human trafficking and is an advocate for the International Justice Mission.
Facebook: Facebook.com/DaraMaclean
Twitter: Twitter.com/DaraMaclean
YouTube: YouTube.com/DaraMaclean
About Word Entertainment
A leader in the music industry for over 60 years, Word Entertainment, a Warner/Curb company, is a unique, comprehensive entertainment company comprised of multi-faceted artist service departments including publishing, merchandising, booking, and online initiatives. Word Entertainment represents some of the top names and brands in music, including Meredith Andrews, Chris August, Francesca Battistelli, Big Daddy Weave, Jason Castro, Patrick Ryan Clark, Everfound, for KING & COUNTRY, Group 1 Crew, Love & The Outcome, Dara Maclean, NEEDTOBREATHE, Point Of Grace, Sidewalk Prophets, Skillet, Switchfoot and We As Human and is home to 25 Entertainment, Word Distribution (representing Curb Records and Big Idea/VeggieTales among others), Word Music Publications & Church Resources, Word Films, Word Music Publishing and Word Label Group's Word Records, Word Worship and Fervent Records.
###
For more info on Dara Maclean visit the JFH Artists Database.