LEGENDARY VOCALIST JOHN SCHLITT SETS RELEASE DATE FOR FIRST CHRISTMAS CD
As-Yet-Untitled Album Hits Stores October 29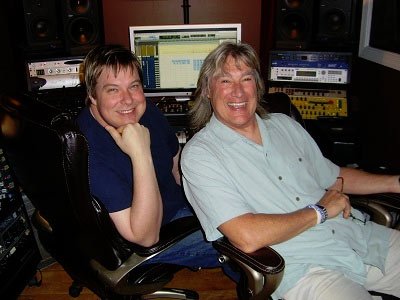 John Schlitt, right, is in the studio working on his new Christmas CD, with producer Dan Needham, left. The album will be released October 29. (McCain & Co. Public Relations photo)
NEWS SOURCE: McCain & Co. PR
August 29, 2013
NASHVILLE, Tenn. (August 29, 2013) - Legendary vocalist John Schlitt has announced the release date of his new as-yet-untitled Christmas CD. The musical project, the Grammy and Dove Award winner's first recorded collection of Christmas music, will be released October 29.
"It really is beginning to feel more like Christmas as we make the final decisions about my new Christmas CD," Schlitt says. "Now that we have decided on a release date, all the other pieces, like final mixes, CD art, and, of course, the album title, will come together. There's so much going on behind the scenes. My producer, Dan Needham, who currently is touring as the drummer with Michael McDonald, has even been sending me new mixes from the road! I have to say, I'm loving the music more and more and cannot wait to share it with my friends!"
Schlitt, who has never recorded any Christmas music, neither during his 20-year stint as the lead singer with Petra nor as a solo artist, says he had felt "a very strong tug" to make this seasonal record.
The majority of the CD consists of traditional Christmas songs with, according to Schlitt, one new original, and all done "John Schlitt style."
Schlitt utilized the popular crowd funding platform Kickstarter to raise financial support for the new album.
For more information on Schlitt and the new CD, visit johnwschlitt.com or follow him on Twitter (@johnwschlitt) or Facebook (facebook.com/johnwschlitt).
About John Schlitt:
With more than three decades worth of water under the musical bridge, John Schlitt has enjoyed a stellar career as a solo artist, as the lead singer for Grammy Award-winning Christian band Petra, one of the most successful Christian rock bands of all time, and as the former lead singer for popular '70s mainstream rock band Head East. He has been inducted into the Gospel Music Hall of Fame as the lead singer of Petra during the years when the band won 10 Dove Awards and four Grammy Awards. Schlitt was named the best rock singer in Christian music history by GospelMusicChannel.com. According to the website, Schlitt "remains one of the most distinctive and impactful men to ever stand behind a microphone." Schlitt was also named Male Vocalist of the Year in About.com's 2011 Readers' Poll in a category that included Chris Tomlin, Jeremy Camp, Brandon Heath and Bebo Norman.
Since Schlitt released his fourth solo CD, The Greater Cause, in May 2012, the legendary vocalist's busy schedule has included appearances on The Mike Huckabee Show, 700 Club Interactive and the Faith & Freedom Celebration--the faith-based kick-off to the Republican National Convention, as well as extensive international touring.
###
For more info on John Schlitt visit the JFH Artists Database.