RIGHTEOUS VENDETTA ANNOUNCES UPCOMING TOURS WITH TAPROOT, TRAPT
New full-length due out this fall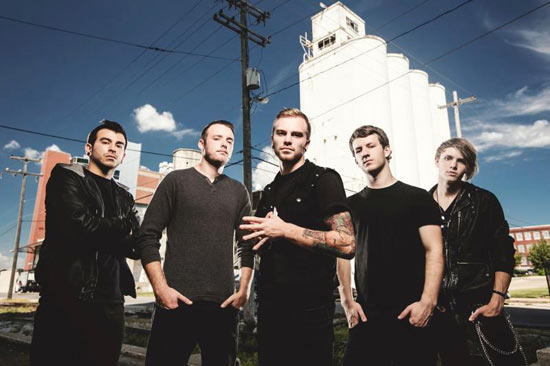 NEWS SOURCE: Fresno Media
August 29, 2013
CODY, WYOMING - Wyoming rock/metal act on the rise Righteous Vendetta has confirmed an extensive fall touring schedule, including a direct support slot to Taproot on the September/October "Fall to Action Tour" as well as a stint with Trapt beginning on Halloween. A list of all confirmed dates can be seen below.
"The end of this year has really been an amazing turn of events," said vocalist Ryan Hayes. "We are excited to announce we will be both supporting Taproot in September/October on the 'Fall to Action Tour' and Trapt in October/November. As we are about a quarter of the way into our tour dates with 10 Years, the rest of the year is looking to be packed with RV shows. It is surreal to us to be supporting bands that helped us follow our dreams and we anticipate growing relationships with all of them."
Currently on tour with hard rock luminary 10 Years, Righteous Vendetta is gearing up for the release of a new full-length, due out this fall. The upcoming LP will feature new mixes of several tracks from the band's recent EP 'Vol. 1' along with four brand new anthems.
The band recently completed recording the new album at JTW Recording Studios in Hubertus, Wis. with producer Joel Wanasek who also produced the band's previous effort Lawless.
"The new record is sure to be one of the biggest, hardest hitting mixes in the genre," added Hayes. "It is heavy, catchy, melodic, and will have you singing every chorus after the first time you hear it."
Righteous Vendetta will look to build upon past successes, including multiple hit singles - "This Pain" spent 15 weeks in the top 20 on Billboard's Christian Rock chart and "The Fire Inside" broke the top 10 at Christian Rock and spent 10 weeks in the top 20 - and over 800 shows played around the globe.
Check out the music video for "The Fire Inside," taken from 'Vol. 1' EP at: http://youtu.be/Qv-DekcmbpY, and stay tuned for more information on Righteous Vendetta.
Righteous Vendetta w/ 10 Years...
8/31 - Lawton, OH @ Fort Still Airbase *RV only
9/01 - Houston, TX @ Warehouse Live
9/04 - Chattanooga, TN @ Rhythm & Brews
9/05 - Nashville, TN @ Exit/In
9/07 - Rosenberg, TX @ LexFest
9/10 - Baton Rouge, LA @ Varsity Theatre
9/14 - Lafayette, LA @ The District
Righteous Vendetta w/ Taproot "Fall to Action Tour"
9/18 - Milford, OH @ Bocca Billiards
9/19 - Nashville, TN @ 12th and Porter
9/20 - Montgomery, AL @ Rock Bottom
9/21 - Biloxi, MS @ WCPR Fest
9/24 - Merriam, KS @ Aftershock
9/25 - Sauget, IL @ Pop's
9/26 - Memphis, TN @ New Daisy Theater
9/27 - Tupelo, MS @ Goodtime Charlie's
9/28 - Columbus, GA @ WRCG 1069 ROCKS Presents
10/02 - New Port Richey, FL @ Bourbon Street
10/03 - Clermont, FL @ The Q Room
10/04 - Destin, FL @ Club LA
10/05 - Jacksonville, FL @ Jack Rabbits
10/07 - Charlotte, NC @ Chop Shop
10/09 - Fayetteville, NC @ Drunk Horse Pub
10/11 - Springfield, VA @ Empire
10/12 - Woodstock, VA @ Chili Cookoff
10/13 - White Marsh, MD @ House of Rock
10/15 - Reading, PA @ Reverb
10/17 - Akron, OH @ The Rock Factory
10/18 - Battle Creek, MI @ Planet Rock
10/19 - Fort Wayne, IN @ Piere's
Righteous Vendetta w/ Trapt...
10/31 - Seattle, WA @ El Corazon
11/02 - Spokane, WA @ Knitting Factory
11/04 - Minot, ND @ The 'O'riginal Bar
11/05 - Bismarck, ND @ O.N.E.
11/06 - Fargo, ND @ House of Rock @ The Hub
11/08 - Dayton, OH @ McGuffy's
11/09 - Flint, MI @ Machine Shop
11/10 - Grand Rapids, MI @ Intersection (Front Room)
11/12 - Rochester, NY @ Waterstreet Music Hall
11/14 - Luzerne, PA @ Brew Brothers West
11/15 - Clifton Park, NY @ Northern Lights
11/16 - Portland, ME @ Asylum
Righteous Vendetta online...
www.facebook.com/righteousvendetta
www.righteousvendetta.com
www.youtube.com/user/RighteousVendetta
Righteous Vendetta is...
Ryan Hayes - Vocals
Justin Olmstead - Guitar
Isaiah Perez - Drums
Carl Heiman - Guitar
Zack Goggins - Bass
###