NATALIE GRANT PERFORMS AT "LET FREEDOM RING" CEREMONY IN WASHINGTON, D.C.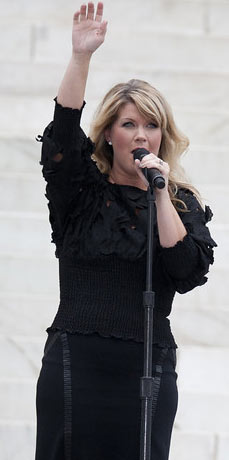 NEWS SOURCE: Rogers & Cowan
August 30, 2013
In case you missed it….Grammy-nominated artist Natalie Grant recently performed at the "Let Freedom Ring" ceremony at the Lincoln Memorial in Washington, Wednesday, Aug. 28, 2013, to commemorate the 50th anniversary of the 1963 March on Washington for Jobs and Freedom.
Grant delivered a powerhouse vocal of "I Love the Lord" from the steps of the memorial where Martin Luther King Jr. delivered his "I Have a Dream" speech 50 years ago. Grant joined a stellar line up of speakers/and performers that included President Barack Obama and former Presidents Bill Clinton and Jimmy Carter, Oprah Winfrey, LeAnn Rimes, BeBe Winans, Congressman John Lewis, Jamie Foxx and Forest Whitaker, among others.
Live Tweets from around the nation filled social media channels as Grant sang. Mayor of Atlanta Kasim Reed Tweeted, "Natalie Grant just performed 'I Love the Lord.' She was terrific" while Don Lemon of CNN reported, "the girl can sing." View Grant's performance here: http://www.youtube.com/watch?v=eHD1LGLpV4Y
As a Grammy Nominee, multiple GMA Female Vocalist of the Year award-winner and the top-selling Adult Contemporary female solo artist in 2005, 2006 and 2008, Natalie Grant is among a select number of artists to have achieved a formidable foothold at mainstream media and radio and has proven to be a triple-threat success as powerhouse vocalist, heart-gripping songwriter and charismatic performer in concert. With the advent of her 2005 breakthrough album, Awaken, being certified gold by RIAA, her chain of success led to GMA Female Vocalist of the Year Awards for four consecutive years (2006-2009) with a return 5th win in 2012. Grant is gearing up for the release of her highly anticipated album, Hurricane from Curb Records. The album is currently available for pre-order on iTunes, but available everywhere October 15th.
###
For more info on Natalie Grant visit the JFH Artists Database.