K-LOVE RADIO NAMED 'STATION OF THE YEAR' BY CHRISTIAN MUSIC BROADCASTERS
K-LOVE President and CEO Mike Novak Receives The Scott Campbell
Industry Achievement Award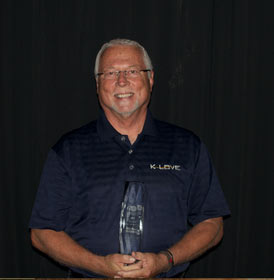 NEWS SOURCE: Merge PR
September 10, 2013
ROCKLIN, CALIF. - Sept. 10, 2013 - K-LOVE Radio has been named Station of the Year by Christian Music Broadcasters (CMB) at the annual CMB Awards night, an evening spent honoring Christian radio stations around the country that show outstanding achievement in on-air presentation, community service, ratings, new media and industry leadership.
The annual awards banquet was held Wednesday, Sept. 4, during Momentum 2013, Christian radio's premiere leadership conference, at the Disney Yacht and Beach Club Convention Center in Lake Buena Vista, Fla.
The Station of the Year is the highest honor awarded by CMB each year and is broken down into four categories based on radio market size: major, large, medium and small. K-LOVE President and CEO Mike Novak was also awarded the Scott Campbell Industry Achievement Award, named after one of the pioneers of the Christian music format, for his for outstanding and long-term contributions to the growth of Christian music radio.
"K-LOVE is honored to have been awarded Station of the Year by Christian Music Broadcasters," said Mike Novak, President and CEO of the K-LOVE and Air1 Radio Network. "Christian music continues to have a life-changing and positive impact on millions of lives, and we're grateful to be able to uplift and encourage our listeners every day."
"I can't think of anyone more deserving of the Scott Campbell Industry Achievement Award other than Mike Novak," said David Pierce, Chief Creative Officer of K-LOVE and Air1 Radio Network. "Mike's incredible leadership and dedication to the advancement of Christian radio continues to influence the industry we are so passionate about."
The CMB Awards are open to any radio station that plays Christian music for the majority of the broadcast day and are judged by a panel of industry representatives. For more information on Christian Music Broadcasters and the CMB Awards visit www.CMBonline.org.
About K-LOVE Radio
K-LOVE creates compelling media designed to inspire and encourage people to develop a meaningful relationship with Christ. K-LOVE is listener supported and delivers positive, encouraging contemporary Christian music through its 446 signals across 47 states. For more information visit www.klove.com.
# # #