SINGER/SONGWRITER AND AUTHOR JEFF SLAUGHTER SET TO RELEASE UNDER GOD OCTOBER 1
New CD Follows On The Heels Of Multi-Talented Singer/Songwriter's Autobiography, It's All True: Walking by Faith in a Funky World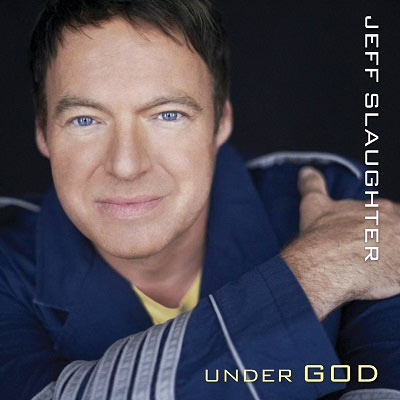 NEWS SOURCE: McCain & Co. PR
September 11, 2013
NASHVILLE, Tenn. (September 11, 2013) - Multi-talented singer, songwriter and author Jeff Slaughter has set October 1 as the release date of his highly-anticipated new CD,
Under God
.
As a talented songsmith, Slaughter has penned such hit songs as Point of Grace's chart-topper "One More Broken Heart," and as a formidable sideman he has shared the stage with multiple music superstars, including Amy Grant, Faith Hill, Kenny Rogers, Loretta Lynn, Conway Twitty and Suzy Bogguss. Experts estimate approximately 46 million children have sung the songs Slaughter composed for LifeWay Christian Resources and Brentwood-Benson Music Publication's Vacation Bible School programs. Now the singer/songwriter is taking center stage with the release of his latest CD, Under God.
The 14-track project kicks off with the sparkling song, "By Faith," a pure pop anthem that has listeners fist-pumping to its infectious, joy-filled declarations--"By Faith, I pray / By Faith, I praise / By Faith, I obey and walk in God's ways!" As hard as it is to imagine, Slaughter penned those words while sitting next to his mother's hospital bed, after her doctors discovered a massive tumor. His mother had perhaps three months to live.
"I felt like I was in limbo and lying in the pit," Slaughter recalls. "I couldn't sense the presence of God at all. Then I heard Him: 'I'm down here with you. I know you're in the miry clay, and I'll lay down there with you until you're ready to get up. You haven't felt me or heard me, but I haven't left you. When you're ready, I promise I'll lift you up.' Through the process, I began to realize that these songs were part of Mama's legacy, and came from the very faith she taught me."
"Jeff Slaughter is one of the most passionate songwriters I've worked with in 18 years of publishing," says Johnathan Crumpton, vice president, Brentwood-Benson Music Publications. "You know he is going to pray carefully over the song and then give it 110 percent effort. His love for God...(is) evident in the way he lives, the way he talks and the way he writes."
That passion is evident whether Slaughter is belting out a potent, vertical worship anthem like "This Is Why," pumping up the volume with a driving, guitar-driven, barn-burner like "In Your Power," or pulling back for an intimate, contemplative piano ballad like "One" and "The Word." "I'll hide The Word inside my heart / So I will not sin against God / No matter what I see or hear in this world, I will stand on The Word," he sings, and you know it's as much a prayer as a song.
Slaughter continues the theme of reverence for the Word of God with his bold declaration songs, "It's All True," "If God" and "God Cares." The album's title track, "Under God," is a patriotic single extolling the Christian values on which the United States was founded. Slaughter co-wrote the song with the project's producers, brothers Preston Dalton and Spencer Dalton, as an encouragement to the American church, encouraging believers to pray for our country.
"'Under God' was written as a battle cry to remind Americans where we came from," Slaughter says. "To try and erase God from our pledge, our money and our history would destroy the foundation our forefathers fought so passionately to establish for us."
While Slaughter's lyrical focus remains fixed on themes of praise, worship and thanksgiving, he doesn't shy away from employing a vast array of musical styles to get his message across. The funk-inspired "Thanks In Everything," the punk-rock inflected "I Can't Wait" and the moody and atmospheric "Rush to Rest" demonstrate just how broad the popular tunesmith's talent ranges. He even throws in a fun, kids-oriented hip-hop number called "Humpty Dumpty" to engage the VBS crowd before closing the project with "Like Jesus," a contemplative, piano-driven, 11 1/2 minute musical meditation on the unmatchable nature of Christ.
For more information about Slaughter, Under God and It's All True, visit jeffslaughter.com. The CD will be distributed through Elevate Entertainment.
About Jeff Slaughter:
Jeff Slaughter is a singer/songwriter, author and world-renowned worship leader who has worked with some of the biggest stars in music, including Conway Twitty, Loretta Lynn, Faith Hill, and Amy Grant. He was enlisted by Lifeway--the world's largest provider of Christian resources--to be the sole songwriter for its Vacation Bible School for 16 years, and his songs have impacted millions of children and families. Christian music fans will recognize him as the writer of the No. 1 radio single, "One More Broken Heart," by Point of Grace.
Slaughter currently is touring throughout the Southeast to support the "Jeff Slaughter VBS World Tour," the composer's first VBS curriculum with Brentwood/Benson Music Publications.
As a solo artist, Slaughter has toured extensively throughout the U.S., Europe, Africa, Australia, Asia, Canada and Central America.
For more information about Slaughter, Under God and It's All True, visit jeffslaughter.com or follow him on Facebook (facebook.com/pages/Jeff-Slaughter-Ministries) or Twitter (@jeff_slaughter).
About Randy Winton:
Randy Winton, co-author of It's All True, is also the author of In My Shoes and a youth ministry veteran, following an award-winning career as a sportswriter.
# # #