Candice Russell Hopes for "So Much More" with Release of Debut Album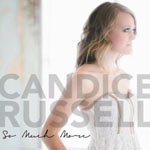 NEWS SOURCE: Nashville PR
September 16, 2013
(PORTLAND, Oregon) -- Portland-based singer-songwriter Candice Russell dreamed of changing the world since she was a toddler. Now 21, the "American Idol" veteran is seeing her dreams realized, thanks to her debut album, "So Much More," which was released by Reflect Records on July 30th.
Russell collaborated with producer Dave Lubben (Kutless, Rachel Chan) and her brother, Aaron Russell (who also assisted in production), to write all ten of the album's original songs. With constant comparisons to contemporaries ranging from Taylor Swift to Kelly Clarkson and Colbie Caillat, Russell's seemingly effortless, rich and pure vocal tone exhibits the passion and confidence of a seasoned artist.
Like many young artists, Russell grew up singing in church. Her mother was amazed when she first heard Russell singing "Jesus Loves Me" with perfect pitch at the tender age of one. At sixteen, she won a statewide singer-songwriter contest at the Oregon Fine Arts Festival which kickstarted her musical confidence. But nothing could have prepared her for the roller coaster ride that was "American Idol." In 2012 (Season 11), Russell made it all the way to Hollywood Week.
"'American Idol' was a crazy experience," says Russell. "It was a once in a lifetime opportunity to get to meet the judges and be around so many other talented singers and musicians. I was mentally exhausted when it was over but I'm happy that I did it. I'm excited to be on to a new chapter in my music career now, based not only on singing but also songwriting, which is what I've always wanted to do."
While her Hollywood adventure was an amazing experience, Russell's musical direction was more complex than the cookie-cutter pop formulas forced onto most young artists. Drawing from her own real life experiences, Russell's songwriting is honest and vulnerable, while maintaining a positivity that encourages listeners to strive for something more.
"I want to reach people with music that I have written and hopefully uplift and help them," says Russell.
The songs on "So Much More" reflect major moments in Russell's journey, which haven't always been easy. As a teenager, she was diagnosed with Graves' Disease, an immune system disorder similar to hyperthyroidism. She received treatment, but medications led to complications. And while she still deals with challenges as a result, she's determined not to let it hold her back.
As she wrote in the album's title track, "Every setback sets me up to come back / And I'm okay with that / I can't control what's out of my hands / I still believe there's a bigger plan."
With the release of "So Much More," Russell is putting the setbacks behind her and clearly focusing on that bigger plan. If early reviews are any indication, fans will be hearing "So Much More" of her for years to come.
For more information, visit Candice's official website at www.candicerussell.com.
###