IMPENDING DOOM ANNOUNCE NEW RECORD
NEW TEASER AVAILABLE NOW - WATCH HERE

"DEATH WILL REIGN" OUT 11/5/13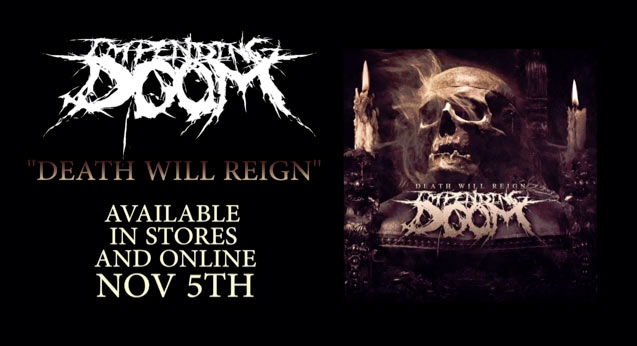 NEWS SOURCE: eOne
September 26, 2013
Southern California Gorship outfit IMPENDING DOOM have announced an all new LP called "Death Will Reign" due out November 5, 2013 via eOne Music. Recorded, Produced and Mixed by Will Putney at the Machine Shop, this is the band's most ferocious material to date. "Impending Doom have never sounded uglier and more desperate than on 'Death Will Reign,' says Alternative Press.
Impending Doom has crafted a stunning, deliberate and unrelenting collection with a sense of purpose, drive and continuity. "Death Will Reign" is the culmination of all that has come before, mining the bleak darkness and "scare" factor of last year's "Baptized in Filth" and the dynamic fury of "There Will Be Violence" and "The Serpent Servant."
All of those elements are injected with the return of the gritty rawness found within the unpolished grind of "Nailed. Dead. Risen," Impending Doom's squealing cult-classic debut that introduced the world to their unique combination of reverent worship and sick gore-core, dubbed Goreship.
"We wanted this album to sound very natural and unpolished," explains longtime bassist David Sittig, a part of the lineup since before the first album's release. "There's no crazy digital stuff. There are no fake drums. We wanted it to have the feel of our first album with the songwriting from the last one. We've gotten better at song structures and so forth over the years, but we wanted to recapture that old-school vibe, too."
IMPENDING DOOM is: Brook Reeves (Vocals) Manny Contreras (Guitars) Eric Correa (Guitars) David Sittig (Bass) Brandon "Btown" Trahan (Drums)
###
For more info on Impending Doom visit the JFH Artists Database.