Gurl Code Raises the Bar for Women in Hip Hop
The highly anticipated all-female compilation album will release October 22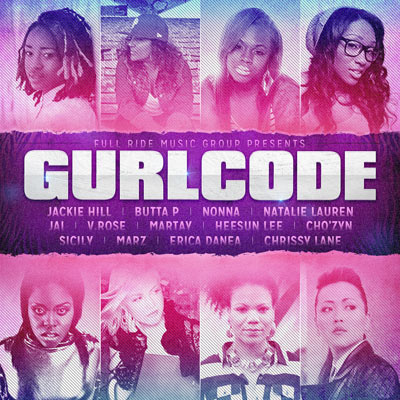 NEWS SOURCE: Gospel PR
September 30, 2013
St. Louis, MO-September 30, 2013-Welcome to the Gurl Code-the all-female compilation album featuring 13 women with tracks that are just as diverse as the ladies themselves. Full Ride Music Group CEO, Thi'sl, created this platform to provide an eclectic mix of music for women by women.
"I think this album will present the standard for women in Hip Hop," Thi'sl said. "This is music with substance, and even though I'm a man, I can vibe to it and play it in my car. My daughter is so excited about the release of this album. She loves the music, and is inspired by the women."
Tracklist:
1. WTTGGC - Jackie Hill
2. Gurl Code (Turnt' Up) - Cho'zyn
Produced by Black Knight
3. Made for This - Butta P feat. Natalie Lauren (Suzy Rock)
Produced by GAWVI
4. Secret Garden - Marz
Produced by Gabriel Ramirez, Manuel Ferrer, Chris Morgan
5. He Does - V. Rose
Produced by Spec (SpecHouse)
6. Trust in You - Sicily feat. Jasmine Le'Shea
Produced by Mike Verse Mills
7. You - Erica Danea feat. Maime McIntyre
Produced by Y.B.
8. Alive - Jai
Produced by J.R
9. WDHTG - Chrissy Lane
Produced by Spec (SpecHouse)
10. One Man Girl - Nonna feat. Latoya Wilson
Produced by Steve T
11. Turn Me Around - HeeSun Lee feat. Mia Hunt
Produced by Raynard Dj X-Ray James
12. Satisfied - Martay
Produced by Martay, Anthony Clint Jr.?
13. Beautiful Vision - Jackie Hill
14. Beautiful Day - Marz
Produced by Gabriel Ramirez, Mic. O., Manuel Ferrer
Originally slated to release October 1, the release date was pushed back to October 22 due to delays.
Related Links Gurl Code Video Update by Thi'sl: http://youtu.be/BCcTae5qpv8
Thi'sl: www.iamthisl.com
Full Ride Music Group Facebook: www.facebook.com/FullRideMusic
Full Ride Music Group Twitter: www.twitter.com/fullridemusic
###