POWERFUL PERFORMANCES BY POP SINGER JULIANNA ZOBRIST, WIFE OF TAMPA BAY RAYS ALL-STAR PLAYER BEN ZOBRIST, HIGHLIGHTED LAST NIGHT'S MAJOR LEAGUE BASEBALL AL DIVISIONAL PLAYOFF GAME
Tampa Bay Rays Take the Win in Close Playoff Game Against the Boston Red Sox, as Zobrist Wows the Crowd With Stirring Performances of the National Anthem to Kick-Off the Game and "God Bless America" in the 7th Inning Stretch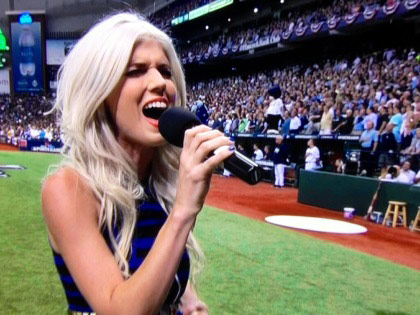 NEWS SOURCE: Rogers & Cowan
October 8, 2013
St. Petersburg, FL (October 8, 2013) - Julianna Zobrist showed the world her powerful vocals last night, during her stirring performance of both the National Anthem and "God Bless America" at the MLB AL Divisional Series Playoff game between the Tampa Bay Rays and the Boston Red Sox, as her husband Ben and the Rays took the win at home.
SEE JULIANNA'S STIRRING PERFORMANCE OF GOD BLESS AMERICA & ARTICLE ON MLB.COM HERE:
http://tampabay.rays.mlb.com/news/article/tb/ben-zobrists-wife-julianna-sings-anthem-at-tropicana field?ymd=20131007&content_id=62650114&vkey=news_tb
Julianna brought her A-game and nailed her performances, with rave reviews from fans and critics alike. Julianna is the wife of two time All-Star Tampa Bay Rays second baseman, Ben Zobrist. The Zobrist's performances were both televised on TBS at 6:00pm EDT from Tropicana Field in St. Petersburg, Florida.
Julianna felt honored to sing our nation's most revered song. "The anthem in and of itself is powerful enough, but to have my husband out there and to sing it and hear all these voices was just phenomenal," she said. "I'm really blessed. Really glad they asked me."
Julianna came back during the seventh inning stretch to sing "God Bless America." Afterward, she received a big hug from her husband Ben who uses her music as his walk-up song. Julianna says she is "just glad" "to be on the field with him."
Ben and Julianna Zobrist will release their first book entitled, Double Play, in April 2014 from B&H Publishing Group. Julianna will release her third record at the same time.