STRENGTHEN WHAT REMAINS TO TOUR EUROPE!
NEW MUSIC VIDEO - "DISREGARDED"

TURNING A BLIND EYE OUT NOW VIA BLOOD & INK RECORDS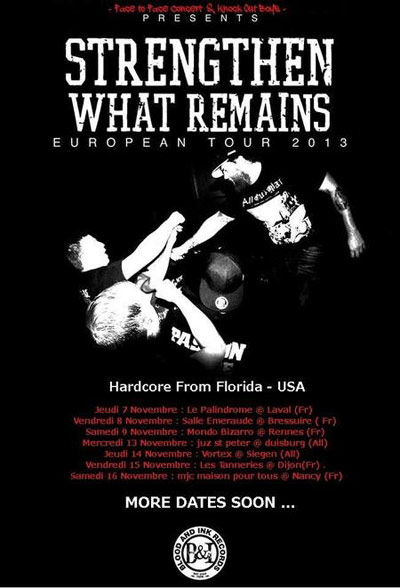 NEWS SOURCE: Blood & Ink Records
October 10, 2013
For their first Blood & Ink Records release, Turning A Blind Eye, STRENGTHEN WHAT REMAINS demonstrate just how much growth they've experienced both musically and personally since their earlier recordings. Recorded with Dean Baltulonis (Madball, Trapped Under Ice, Fire & Ice) and mastered by David Gardner (Primitive Weapon, Dillinger Four), Turning A Blind Eye packs a harsh musical punch and lyrical potency few albums in recent years could match. Without a doubt, STRENGTHEN WHAT REMAINS have created something special, garnering praise from many.
STRENGTHEN WHAT REMAINS will be following up their recent summer release with a European tour with stops in France and Germany. The dates are in November and can be seen below.
NOV-07 Le Palindrome @ Laval (France)
NOV-08 Salle Emeraude @ Bressuire (France)
NOV-09 Mondo Bizarro @ Rennes (France)
NOV-13 Juz St Peter @ Duisburg (Germany)
NOV-14 Vortex @ Siegen (Germany)
NOV-15 Les Tanneries @ Dijon (France)
NOV-16 MJC Maison Pour Tous @ Nancy (France)
STRENGTHEN WHAT REMAINS have released a music video for their song "Disregarded". Check it out now on YouTube!
AUDIO: Strengthen What Remains on Bandcamp
VIDEO: "Disregarded" via YouTube