THE 44TH ANNUAL GMA DOVE AWARDS CELEBRATED A POWERFUL YEAR IN GOSPEL AND CHRISTIAN MUSIC TONIGHT WITH UNFORGETTABLE PERFORMANCES, SPECIAL TRIBUTES AND AWARDS IN 42 CATEGORIES
Show To Be Televised On UP Monday, October 21 at 8:00P.M./EDT
TobyMac is named ARTIST OF THE YEAR and for King & Country is NEW ARTIST OF THE YEAR
SONG OF THE YEAR is "10,000 Reasons" by Matt Redman


Mandisa receives the "UPLIFT Someone" Award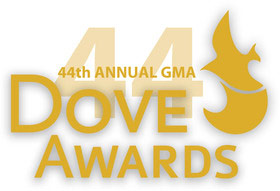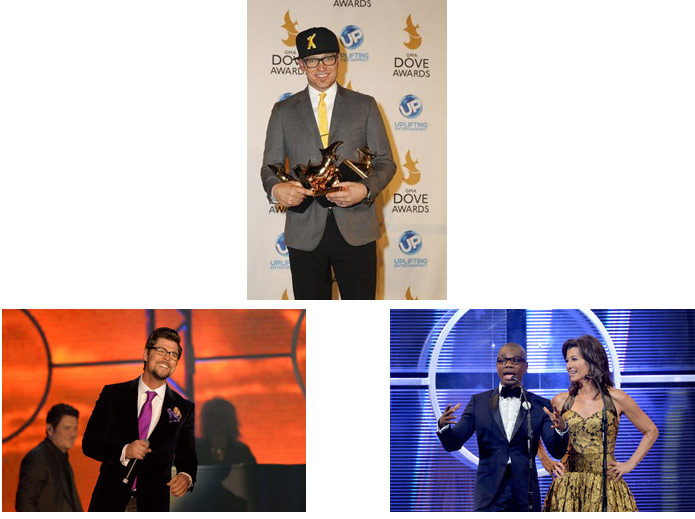 Photo 1: Artist of the Year TobyMac / Photo 2: Jason Crabb / Photo 3: Co-hosts Kirk Franklin and Amy Grant
credit: Getty Images
NEWS SOURCE: Wortman Works
October 16, 2013
NASHVILLE, Tenn. (Oct. 15, 2013-10:00PM/CST) - The 44th Annual GMA Doves Awards, hosted by Amy Grant and Kirk Franklin, were handed out tonight at Lipscomb University's Allen Arena in celebration of Gospel and Christian music's biggest night. The entire pre-show and behind-the-scenes footage was seen live on hearitfirst.com. The broadcast is to air Monday, October 21st at 8:00P.M./EDT exclusively on UP, America's favorite network for uplifting entertainment. For a full list of winners, please visit www.doveawards.com. (Also, click here to download a PDF file listing all nominees with the winners highlighted in yellow!)
The 44th Annual GMA Dove Award Telecast Winners:
Artist of the Year: TobyMac (ForeFront Records)
New Artist of the Year: for King & Country (Fervent)
Song of the Year: "10,000 Reasons (Bless the Lord)" Matt Redman (artist), Matt Redman, Jonas Myrin (writers) ThankYou Music (publisher)
Pop Contemporary Album: Eye On It, TobyMac, (producers) David Garcia, Toby Mckeehan, Christopher Stevens, Jamie Moore, Telemitry
Rap/Hip Hop Album: Gravity, Lecrae, (producers) Heat Academy, Joseph Prielozmy, J.R., The Watchmen, Dru Castro, Uford Ebong, Tyshane, Thainnacircle, DJ Kahalil, Zach Crowell, Dirty Rice, DJ Official and Rudy Currance
Southern Gospel Performance: "What The Blood is For" Jason Crabb, Gaither Music Group (producer) Wayne Haun
Gospel Performance: "Break Every Chain", Tasha Cobbs (producer) VaShawn Mitchell
Praise & Worship Album: Burning Lights, Chris Tomlin (producers) Jason Ingram, Ed Cash and Dan Muckala

Matt Redman leads all awards with 6, TobyMac and Jason Crabb follows with 4, Tasha Cobb and producer Wayne Haun scored 3 each. Chris Tomlin, Tamela Mann and Lecrae scored 2.
"We all run the race and it's tough, so we need a night of encouragement," said co-host Amy Grant while kicking off the 44th Annual GMA Dove awards.
TobyMac said, "It feels weird to be called artist of the year when I know it takes a family and I always want to acknowledge that. I said in one of my songs a long time ago, I'm just a little man trying to fit in God's plan. I still feel like that."
UP, formerly GMC TV, surprised Mandisa by honoring her with their "Uplift Someone". The 'Uplift Someone' award embodies the organization's core values of uplifting and inspiring others and recognizes an artist who through the message of their music and acts of positivity and kindness, has encouraged people across the nation and truly changed lives. Presented to Mandisa by Grammy® Award-winning artist Amy Grant, the network granted the award to the singer "for her music, message and humanitarian heart, all of which (individually and collectively) have inspired others."
Several highlights of the evening included touching tributes by Michael W. Smith and the Newsboys to Billy Graham. Talented vocalists Karen Peck, Daily & Vincent, Signature Sound and the Isaacs honored the Gaither Vocal Band in a stunning collaboration of "He Touched Me."
GMA Executive Director Jackie Patillo says, "What an amazing night of music and honor. Tonight's performances were all a testament to why we are all here. On behalf of membership of the GMA, we are proud to present this year's Dove winners and congratule each of them and the nominees on their achievements. We would also like to thank the city of Nashville for welcoming us back home and to the wonderful host for the evening, Lipscomb University."
UP's President & CEO Charles Humbard added, "Congratulations to the GMA Dove Awards winners, performers, presenters and hosts Amy Grant and Kirk Franklin for a thrilling night a spectacular entertainment. This evening celebrates the unifiying and uplifting power of this genre and demonstrates why this is the biggest night of Christian and Gospel music. There is no other network dedicated to showcase this prestigious musical celebration other than UP."
Jamie Grace and Chris August were the co-hosts of the preshow ceremony where over 30 of the awards were received and outstanding performances by CT presented by International Crisis Aid. Both the preshow and the Dove Cares Red Carpet were streamed on www.hearitfirst.com/live.
Tonight's 42 award presentations represent a wide-array of musical styles ranging from Gospel, Contemporary Christian, Rap/Hip-Hop, Urban, Country, Worship, Contemporary and Traditional Gospel, Rock, Pop, Bluegrass, Spanish Language and Inspirational categories.
The memberships of the GMA (Gospel Music Association) determine the winners in each category. Kraft CPA is the official accounting firm for the GMA.
About GMA:
Founded in 1964, the Gospel Music Association serves as the face and voice for the Gospel/Christian music community and is dedicated to exposing, promoting and celebrating the Gospel through music of all styles including Pop, Rock, Praise & Worship, Urban Gospel, R&B, Hip Hop, Southern Gospel, Bluegrass, Country and more. The GMA community includes agents, artists, church leaders, managers, promoters, radio personnel, record company executives, retailers, songwriters and other industry visionaries. The GMA produces the GMA Dove Awards and IMMERSE. For more on supporting the GMA or becoming a member, please visit www.gospelmusic.org or contact the GMA directly at 615.277.1376.
About UP
UP, (www.UPtv.com) based in Atlanta, is America's favorite network for uplifting family entertainment. The network presents original and acquired movies, series, stage plays and music specials along with gMovies, the first faith-friendly streaming movie service. The UP brand is reflected in "Uplift Someone," the network's successful pro-social initiative. UP can be seen in more than 65 million homes on major cable systems including Comcast, Time Warner Cable, Cox Communications and Charter Communications, as well as DIRECTV on channel 338, DISH Network on channel 188, and Verizon FiOS on channel 224. Follow UP on Facebook & Twitter http://facebook.com/UPtv & @UPtv.
Dove Awards Social Media Platforms:
Website - www.doveawards.com
Facebook - www.facebook.com/DoveAwards
Twitter - www.twitter.com/GMADoveAwards Hashtag - #DoveAwards
YouTube - www.youtube.com/GMADoveAwards

###