FIVE IRON FRENZY RELEASING FIRST STUDIO ALBUM IN 10 YEARS ON NOVEMBER 26
ENGINE OF A MILLION PLOTS PRE-SALE BEGINNING OCTOBER 29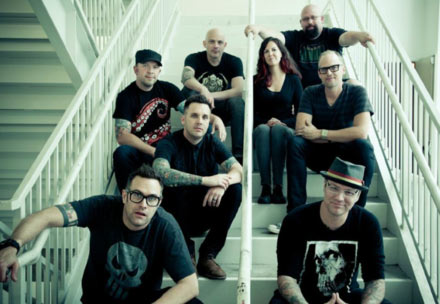 NEWS SOURCE: Merge PR
October 28, 2013
NASHVILLE, TENN. -October 28, 2013 -After calling it quits ten years ago, fan-favorite Five Iron Frenzy is back. The new album, Engine of a Million Plots, will be available for pre-sale beginning at midnight MST on October 29. The presale will be for the new album on vinyl, CD and digital purchase. With each preorder, a digital delivery of a new song will be sent to the buyer. Click here to purchase a pre-order copy of this highly anticipated album. The single, "Into Your Veins," can also be heard here now.
The fans are to credit for this new studio album as this project was overwhelmingly supported through a Kickstarter project that made history raising seven times the asking goal. In less than an hour, fans met the goal and then continued to pledge raising more than $207k.
Five Iron Frenzy's fans first taste of newly recorded music was the release of the song, "Dark & Stormy Night," on November 22, 2011 as a free download. Following the single, the band performed for the first time in eight years on April 28, 2012 in Denver to a packed venue with their local following as well as fans from afar - such as those that flew in from Australia just for the concert. The band reunion will be completed with this release on November 26 and they couldn't be happier to get the music into the hands of those that made this happen.
"Making this record was more about making good art, it was about becoming a family again," shares Five Iron Frenzy saxophonist Leanor Ortega-Till. "I listen and I think 'Wow! We did it! We finally made THE album we've always wanted to listen to.'"
Five Iron Frenzy first formed in 1995 with vocalist/lyricist Reese Roper, former bassist Keith Hoerig, guitarist Micah Ortega, and lead songwriter Scott Kerr. They soon added Dennis Culp on trombone, Andrew Verdecchio on drums, Leanor Ortega-Till on saxophone, Nathanael Dunham on trumpet, and Sonnie Johnson on guitar. They gained national exposure with the songs, "Oh, Canada" (Our Newest Album Ever!, 1997) and "Where the Zero Meets the Fifteen" (Upbeats and Downbeats, 1996). Up until they disbanded in 2003, the band entertained audiences with spirited, interactive shows, sometimes in full costume. Fans can catch the band live as they performing shows in 2013 and 2014.
Track Listing: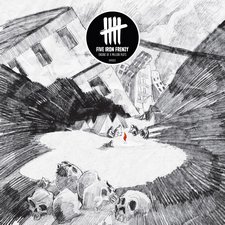 1 - Against A Sea of Troubles
2 - So Far
3 - Zen & The Art of Xenophobia
4 - We Own The Skies
5 - Someone Else's Problem
6 - I Am Jack's Smirking Revenge
7 - To Start A Fire
8 - Battle Dancing Unicorns With Glitter
9 - Into Your Veins
10 - It Was A Dark & Stormy Night
11 - I've Seen The Sun
12 - Blizzards & Bygones
Tour Dates with Reel Big Fish on Select Dates
11/5 Charlotte, NC
11/6 Silver Spring, MD
11/7 Boston, MA
11/8 Providence, RI
11/9 Stroudsburg, PA
11/10 Sayverville, NJ
11/11 New Haven, CT
11/12 Hamilton, ON
11/13 Toronto, ON
11/14 Poughkeepsie, NY
11/15 Philadelphia, PA
11/16 Buffalo, NY
11/17 Pittsburgh, PA
11/18 State College, PA
11/20 Norfolk, VA
11/21 Akron, OH
11/22 Joliet, IL
11/23 Nashville, TN
###
For more info on Five Iron Frenzy visit the JFH Artists Database.