Arrow Records Releases "Christmas in the City:
The Deluxe Edition"
New Holiday Release Features Chart-Topping Artists Canton Jones,
Ann Nesby, Shonlock, and Jeff Sparks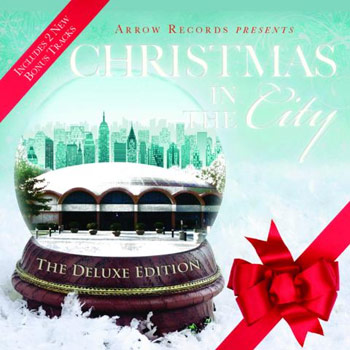 NEWS SOURCE: Adams Group
October 31, 2013
College Park, GA Arrow Records has released Christmas in the City: Deluxe Edition, a collection of Christmas season favorites. First released in 2008, this third edition includes two new bonus tracks, "Silver Bells" and " Holiday Love."
"We are excited about the newest collection of popular Christmas songs," says Taffi Dollar, CEO of Arrow Records and co-pastor of World Changers Church International. "It gives our label a chance to showcase some of our top talent. But more importantly, it allows us an opportunity to keep the name of Jesus Christ alive at a time when shopping and holiday parties too easily crowd out the reason for the season." Chart-topping artists featured on the album include Shonlock, Canton Jones, Ann Nesby and Jeff Sparks.
Shonlock, the singer and songwriter who performs "Happy Holiday," was originally discovered by R. Kelly's management team. In 2011, the urban rock/hip hop artist released NEVERODDOREVEN, which included the single "Something in Your Eyes." Reaching the top spot on Billboard's Christian charts, its popularity propelled him into touring on his own after performing with TobyMac.
A popular singer, songwriter, producer and vocal arranger, Jones has been nominated for a Grammy and Stellar award and has three Gospel Choice Awards.
Nesby, a two-time Grammy winner and six-time nominee, is referred to as "one of the best singers in the known world" by American Idol's Randy Jackson.
A skilled saxophonist, Sparks has recorded several albums, including last year's Jazzy Christmas.
Christmas in the City: The Deluxe Edition is available at http://store.creflodollarministries.org/p-9774-christmas-in-the-city-deluxe-edition.aspx.
ABOUT ARROW RECORDS:
Arrow Records (www.arrow-records.com) is one of three labels that are part of Arrow Global Entertainment, a global music and entertainment organization affiliated with Creflo Dollar Ministries. Established in 1998, its mission is to restore gospel music to its original purpose. It strives to produce music with a firm foundation in the word of God and that makes a lasting mark in the lives of people.
"Christmas in the City: The Deluxe Edition" Tracklist:
"Holiday Love" - Ann Nesby
"Silver Bells" - Canton Jones, Ann Nesby, Jonathan Phillips, Jeff Sparks
"Happy Holiday" - Shonlock
"Jingle Bells" - Dria
"Christmas Means to Me" - Jonathan Phillips
"All I Want" - Canton Jones
"This Christmas" - Heart of God
"Wish You a Merry Christmas" - Canton Jones
"Feliz Navidad" - Jeff Sparks
"Christmas Time Is Here" - Kathy Cameo
###