LEGENDARY CHRISTIAN MUSIC ARTISTS ASSEMBLE FOR RARE CONCERT EVENT TO BENEFIT VETERAN INDUSTRY FRIEND
'Sene-Fit'--A Concert of Love for the Seneffs
Held Recently At Belmont Church In Nashville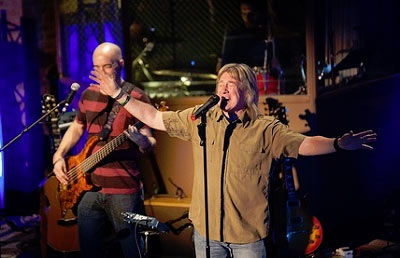 Grammy Award winning band Petra performed at the Sene-fit, with lead singer, John Schlitt, right, and bass player, Matthew Chapman, left. (Steve Lowry photo)
NEWS SOURCE: McCain & Co. PR
November 6, 2013
NASHVILLE, Tenn. (November 6, 2013) - A rare line up of Christian music's most beloved performers, including Phil Keaggy, Petra, Michael Omartian, Rick Cua and others, were on hand recently to perform at "Sene-fit"--A Concert Of Love For The Seneffs at Belmont Church on Music Row.
The concert was held in memory of Joel Seneff, the 24-year-old son of veteran Christian music industry attorney Greg Seneff and his wife, Cheryl. Joel Seneff died July 23 in a tragic motorcycle accident. Proceeds from the benefit concert went toward expenses incurred following Joel's accident.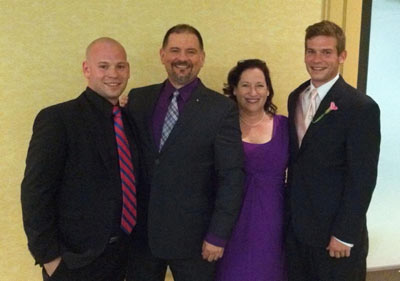 Joel Seneff, far right, died tragically in a motorcycle accident on July 23. Proceeds from the recent concert went toward expenses associated with his accident and funeral. Also pictured are member of Joel Seneff's family, (l-r), Greg Seneff Jr., brother; Greg Seneff Sr., father; and Cheryl Seneff, mother. (Seneff Family photo)
"Cheryl, Greg (Jr.) and I have been, and continue to be, overwhelmed by the outpouring of love, prayers and support we have received since the moment we heard that Joel had been in an accident," says Greg Seneff Sr. "When our dear friend, Brian Mason, told us about the idea of having the concert, I was speechless. I still am. Of course, the death of Joel has torn our hearts--and the hearts of everyone who knew him--in two. I am beginning to realize, however, how God uses tragedy and pain, friendship and love, to heal us. Our family is now much bigger--an extended family of those who loved Joel, and we cherish the times we get to love on them. To the men and woman who blessed us through the concert, those who worked behind the scenes, those who attended and donated online, we can only thank them from the deepest part of our hearts. There are no words adequate to really express our appreciation."
The full line-up for the concert included Phil Keaggy, Petra, Farrell & Farrell, Kenny Marks, Jim Cole, Rick Cua, Morgan Cryar, Michael Omartian, Gordon Kennedy and Rob Frazier.
To view the concert online, visit http://belmont.tv and select "Sene-fit" under Archived Events.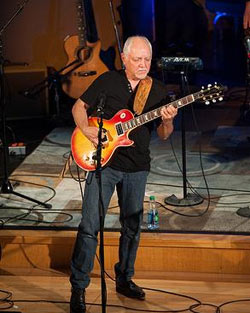 Phil Keaggy was among the performers at the October 29 benefit concert.
(Steve Lowry photo)
To donate to the Seneff family, visit www.belmont.org/senefit/
For more info on Phil Keaggy visit the JFH Artists Database.
For more info on Petra visit the JFH Artists Database.