SINGER/SONGWRITER JULIE ELIAS LAUNCHES MUSIC CONCERT SERIES AIMED AT EMPOWERING YOUTH
'Topic Driven Concerts'
Offer Youth Pastors a Choice of Themes
Targeted To The Specific Needs Of Their Group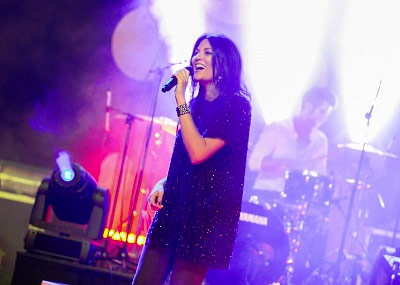 Julie Elias has launched, "Topic Driven Concerts," a new music series aimed at youth. (Julie Elias Music photo)
NEWS SOURCE: Nashville PR
November 13, 2013
NASHVILLE, Tenn. (November 13, 2013) - Singer/songwriter Julie Elias has launched "Topic Driven Concerts," a new music series aimed at empowering youth in key areas where they face challenges. The series offers youth pastors a choice of topic-driven themes targeted to the specific needs of their group. The initial concert offerings include "The Power of Words," "The Reality of Rejection" and "Value In Our Choices."
The live music series is especially designed for girls' events, summer camps, weekend retreats, student conferences and Disciple Now events. The concerts feature Elias leading worship, sharing her original music and interacting with the audience through skits and discussions. Each participant will also receive a 16-page topic-specific booklet, designed with input from youth pastors, students and parents. The booklets are intended to be used at the events, as well as taken home for further discussion and in-depth study.
"One thing I have been reminded about is that the struggles teens face now--rejection, the words they say and the choices they make--are the same things that plague many adults. They become more serious and more damaging as we grow up," Elias says. "In fact, I chose these topics because I am talking from my own experiences! My goal is to help youth learn a healthy Christian response now and, perhaps, save them some heartache and frustration in the future.
"I've performed in front of thousands of kids and I've learned that at heart, we're all the same, with the same struggles," says Elias, who In addition to performing at youth events is currently touring in support of her CD, A Wild Rose.
For more information on Topic Driven Concerts, including samples of the booklets, visit www.julieeliasmusic.com. For booking, email teens[at]julieeliasmusic.com or call 214-316-6510.
Elias is currently Artist-In-Residence at White's Chapel United Methodist Church in Southlake, Texas, one of the 10 largest Methodist congregations in the nation, with an average attendance of 3,400 on Sundays. A Wild Rose, Elias' debut full-length CD of original music, follows the 2011 release of her Christmas-themed CD, Holy Night.
For more information about Elias and A Wild Rose, visit julieeliasmusic.com, or follow her on Facebook (facebook.com/julieeliasmusic) or Twitter (@julieeliasmusic).
About Julie Elias:
After making the networking rounds in Hollywood, Julie Elias was well on her way to becoming an up-and-coming actress thanks to various extra roles on Grey's Anatomy (where she was a regular for two seasons), CSI: New York, Bones, Parks and Recreation, Weeds and other shows, as well as several films, including Due Date, starring Robert Downey Jr., and Larry Crowne with Tom Hanks and Julia Roberts.
A Christmas trip to her hometown in 2010 caused Elias to reexamine her career options after she performed in her home church's praise and worship band and sang in some local concerts.
"It took a seemingly routine Christmas concert that year for me to realize what I've been called to do. In fact, Christmas of that year was the most clear-cut, obvious message I've ever received from God, period! It was as if He said 'I am spelling it out for you, in bold caps: PAY ATTENTION,'" Elias says.
At the beginning of 2011, Elias began making regular pilgrimages to Nashville to collaborate with Music City's top songwriters and producers. The trips resulted in her national debut CD, A Wild Rose, produced by acclaimed producer Robert White Johnson, whose body of work includes songwriting and production credits with such artists as Celine Dion, Faith Hill, Larnelle Harris, Johnny Van Zant and Michael Bolton.
"I've always believed you can hear words, but you can feel music," says Elias. "What is a relationship with God without feeling His presence through your entire being? Sometimes songs can touch you in a way that words cannot."
Surrounding the release of A Wild Rose, the singer/songwriter has shared the stage with some of Christian music's top artists at major festivals including Spirit West Coast, AtlantaFest, Ichthus, Creation NE, Cornerstone, Lifest, Sonshine and Creation NW. She also was chosen to perform on the Talent Spotlight Stage at Walt Disney World's popular Night of Joy and was selected for a soloist role in Ruth Graham's musical, Fear Not Tomorrow.
For more information about Elias and A Wild Rose, visit julieeliasmusic.com, or follow her on Facebook (facebook.com/julieeliasmusic) or Twitter (@julieeliasmusic).