ANCHOR EIGHTY FOUR RECORDS TO ISSUE EVERYTHING I WANT TO SAY ON VINYL
Initial Pressing on Transparent Vinyl With Blue Haze, Limited To 300 Pieces

Vinyl Announcement Coincides With SUBSTREAM Video Premiere For Second Single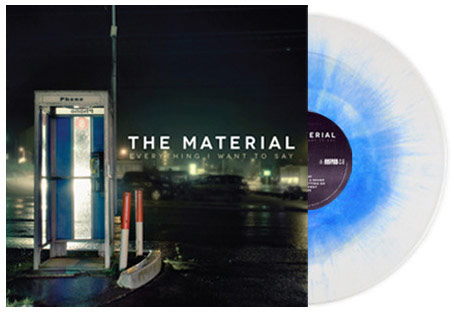 NEWS SOURCE: 1888 PR
November 14, 2013
Los Angeles, CA: LA-based rockers, The Material, have teamed up with Anchor Eighty Four Records to release their 2013 electrifying full-length album 'Everything I Want To Say' on Clear Vinyl with Blue Haze. The initial pressing is limited to 300 pieces and will arrive just in time for the Holidays. Pre-orders are available here.
'Everything I Want To Say' was engineered and produced by Kyle Black (New Found Glory, Pierce The Veil, Heart to Heart) in Los Angeles and features the hit singles "Life Vest," "Born To Make A Sound," and their new music video for "Chances" which can be viewed on Substream Magazine's web site at http://www.substreammusicpress.com/home/?p=16059
"Our latest album 'Everything I Want to Say' is by far my favorite album we have put out to date", says vocalist Colleen D'Agostino. "This time around we really want to bring the world something raw, full of energy and emotion, but most of all, we wanted it to be timeless. With the resurgence of vinyl these last few years, we had been talking about releasing our music on real records. We never thought we'd really get a chance until we had the amazing opportunity to team up with Anchor Eighty Four Records last month to make this dream a reality."
"This album is awesome," adds Anchor Eighty Four owner Cody Jones. " 'Everything I Want To Say' is full of energy, emotion, and killer tones. So, when the band approached me to re-release the album on vinyl, it didn't take me long to say yes. I think everyone will enjoy the new treatment we have given the record."
In addition to their partnership with Anchor Eighty Four Records, The Material recently teamed up with famed photographer Ryan Russell (Paramore, Coheed and Cambria, Against Me!) in Seattle while on tour with Red Jumpsuit Apparatus. In addition to doing a photo shoot, Russell captured The Material performing acoustically for his long-standing 'Nervous Energies' Series, in which he's filmed over 100 sessions, including takes with New Found Glory, Circa Survive, The Almost and Taking Back Sunday. The band's Nervous Energies rendition of "Life Vest" can be seen at http://youtu.be/FTuZf1NFXl8.
- "Colleen D'Agostino's towering rock vocals land between Hayley Williams and Evanescence's Amy Lee." MTV Buzzworthy
- "A roller coaster of serenity and ferocity." AmpKicker
THE MATERIAL
Colleen D'Agostino - Vocals
Jon Moreaux - Guitar
Roi Elam - Guitar
Kevin Pintado - Drums
Jordan Meckley - Bass
Tour Dates
Nov 17 - Long Beach, CA @ DiPiazza's
Dec 15 - Anaheim, CA @ Chain Reaction
Dec 19 - Hollywood, CA @ House of Blues Sunset
The Material
Everything I Want To Say
1. Life Vest
2. Born To Make A Sound
3. Tonight I'm Letting Go
4. Running Away
5. Bottles
6. Skin And Bone
7. Gasoline
8. The Great Unknown
9. Love Me Or Leave Me
10. Let Me In Again
11. Chances
VINYL - http://anchoreightyfour.storenvy.com/products/3522404-lp-the-material-everything-i-want-to-say
CD/DIGITAL
ITUNES - https://itunes.apple.com/us/album/everything-i-want-to-say/id608656853
AMAZON - http://www.amazon.com/gp/product/B00CSZ8CJG

SOUNDCLOUD
http://soundcloud.com/1888media/sets/the-material-everything-i-want-to-say (8 tracks from EIWTS)
http://soundcloud.com/thematerial

VIDEO
EIWTS Track-By-Track commentary by Colleen D'Agostino http://www.youtube.com/watch?v=CjJzaOTJsXQ
"Making of EIWTS" (recording Drums) http://www.youtube.com/watch?v=uL8QN2e8V6s
"Making of EIWTS" (with producer Kyle Black) http://www.youtube.com/watch?v=ICJvRJCHX_I
"Life Vest" Lyric Video http://www.youtube.com/watch?v=E4cjvxydHuU
"Life Vest" Official Music Video http://youtu.be/8CRPnnSQCHE
"Life Vest" (Behind the Scenes) http://youtu.be/3v_tk-5VMUw
"Life Vest" (Nervous Energies Session) http://youtu.be/FTuZf1NFXl8
"Born To Make A Sound" (Live at SXSW 2013) http://www.youtube.com/watch?v=Aqd-wYFMhH4
"Born To Make A Sound" (Live Acoustic) http://www.youtube.com/watch?v=eZV4xUZE0-c
ONLINE
http://www.wearethematerial.com
http://www.facebook.com/thematerialmusic
http://www.twitter.com/thematerial
http://www.youtube.com/thematerialmusic
http://www.purevolume.com/thematerial
http://www.myspace.com/thematerial
http://instagram.com/thematerial
http://thematerial.tumblr.com
http://colleentm.buzznet.com