IMAGE ENTERTAINMENT PRESENTS
Chonda Pierce: Girl Talk
The Highest Selling Female Comedian Of All Time
Available on DVD, Digital Download and Audio on
December 17, 2013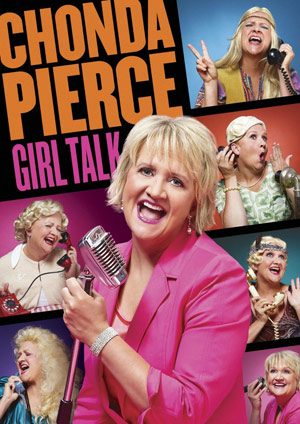 NEWS SOURCE: Image Entertainment
November 26, 2013
The "Queen of Clean," Chonda Pierce, is returning for one of her most hilarious performances yet. On December 17th, Image Entertainment, an RLJ Entertainment (NASDAQ: RLJE) brand, brings you Chonda Pierce: Girl Talk on DVD, digital download and digital audio. Get ready as this preacher's daughter shares some of her funniest stories with you and your family. Chonda Pierce: Girl Talk is one performance everyone will be talking about. From the directors Rick Altizer and Tom Forrest, Chonda: Girl Talk will be available on DVD for an SRP of $14.98.
Chonda has authored half a dozen best-selling books, has seven gold certified DVDs, four platinum DVDs and five Emmy nominations for her unforgettable performances. She is a winner of the Comedian of the Year Visionary Award and recently co-hosted the Dove Awards.
The "Queen of Clean" is back for another sold-out performance in Nashville, Tennessee, and her Southern sass and razor sharp wit will have you laughing until it hurts. Chonda's ready to tell it like it is, and there's no subject she's afraid to tackle! As the undisputed highest-selling female comedian of all time, this preacher's daughter is here to share some of her funniest stories with you and your whole family. Whether you're a woman, a man, a long-time fan or someone who's about to discover Chonda for the first time, come along and join in for a little girl talk. It's a conversation you won't want to miss!
For more information:
http://www.us.rljentertainment.com/product/chonda-pierce-girl-talk/1207a92c-d9a6-e211-97c7-020045490004#sthash.QobtaG8M.dpuf
About RLJ Entertainment, Inc.
RLJ Entertainment, Inc. (NASDAQ: RLJE) is a premier independent licensee and distributor of entertainment content and programming in North America, the United Kingdom and Australia with over 5,300 exclusive titles. RLJE is a leader in numerous genres via its owned and distributed brands such as Acorn (British TV), Image (feature films, stand-up comedy), One Village (urban), Acacia (fitness), Slingshot (faith), Athena (documentaries), Criterion (art films) and Madacy (gift sets). These titles are distributed in multiple formats including DVD, Blu-Ray, digital download, digital streaming, broadcast television (including satellite and cable), theatrical and non-theatrical.
Via its relationship with Agatha Christie Limited, a company that RLJE owns 64% of, RLJE manages the intellectual property and publishing rights to some of the greatest works of mystery fiction, including stories of the iconic sleuths Miss Marple and Poirot. And through its direct-to-consumer business, RLJE has direct contacts and billing relationships with millions of consumers. RLJE leverages its management experience to acquire, distribute, and monetize existing and original content for its many distribution channels, including its nascent branded digital subscription channels, and engages distinct audiences with programming that appeals directly to their unique viewing interests. RLJE has proprietary e-commerce web sites for the Acorn and Acacia brands, and owns the recently launched Acorn TV digital subscription service.
# # #
Chonda Pierce: Girl Talk DVD
Genre: Comedy, Stand-Up
Rating: Not Rated
Language: English
Aspect Ratio: 1.78:1
Audio: Dolby Digital 5.1
Year: 2013
MSRP: $14.98
Street Date: December 17, 2013
Length: 76 minutes
UPC: 0014381771527
Cat#: NOW7715DVD
Special Features: Girl Talk Interrupted, My Own Talk Show, My Mother Chasing Her Hair and Chonda's Award - "Thank You, Miss Minnie"
For more info on Chonda Pierce visit the JFH Artists Database.