HILLSONG ANNOUNCES THE 2014 HILLSONG CONFERENCE IN NEW YORK CITY OCTOBER 16-18 AT THE THEATER AT MADISON SQUARE GARDEN
SPECIAL EARLY REGISTRATION DISCOUNT AVAILABLE UNTIL DECEMBER 31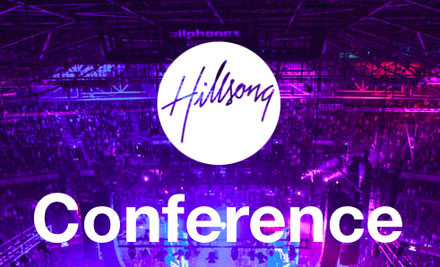 NEWS SOURCE: Merge PR
December 3, 2013
NASHVILLE, TENN. – December 03, 2013 –Hillsong announces the 2014 Hillsong Conference in New York City on October 16-18th at the Theater at Madison Square Garden – presented by Premier Productions. This will mark the second year the Hillsong Conference has traveled to the United States. This past October, the conference sold out Radio City Music Hall with over 6,600 attendees. Special conference registration discounts are available now until December 31. Click here to purchase the early bird rate.
NO OTHER NAME – the 2014 conference theme - will feature Hillsong Senior Pastors Brian and Bobbie Houston and the music groups UNITED and Hillsong LIVE as well as to be announced special guest speakers. Hillsong Conference exists to champion the cause of the local Church across the earth. It exists to water the divine potential within pastors and leaders and believers alike so that together they can each know and fulfill The Great Commission given by Christ in Matthew 28.
Hillsong Conference was birthed in the church's home of Sydney, Australia over 25 years ago. Each July the Conference now takes place in the famed Allphones Arena with more than 20,000 attendees. Now U.S. church leaders and worship leaders can attend and experience the conference in their own country.
- ### -
About Hillsong Church: In August 1983, Brian and Bobbie Houston founded the Hills Christian Life Centre in the Hills District of Sydney, Australia. It has grown from a congregation of 45 to what is said to be the largest local church in Australian history. Today, Hillsong Church is a local church with several global campuses, known for it's healthy approach to Church life, Mission, Innovation, Conferences, College and Praise and Worship. Currently, it comprises of multiple campuses in Australia, plus more than a dozen extension services and a citywide network of connect groups. Hillsong's global congregations continue to add life and depth to this local church, with campuses in influential cities such as London, Cape Town, Kiev, Moscow, Paris, Stockholm, Germany, Amsterdam, Copenhagen, Barcelona, New York City and soon to be Los Angeles, California. Each Hillsong Church plant is passionate about the local communities in which they operate and place a strong emphasis on social justice and helping people both within their own city and abroad.
About UNITED: UNITED is a worship band that originally rose out of the youth ministry of Hillsong Church in Sydney, Australia. This progressive worship band is a global recording and touring entity sent out to share the ever-evolving worship music of Hillsong Church to an international audience through live performances and records. Releasing their first album in 1999, UNITED has toured six continents and 42 nations since 2006. The touring entity of UNITED has made a huge wave in the United States as they became the first Christian artist to ever sell out Los Angeles' Staples Center. In addition to the Staples Center, UNITED has also sold out major venues in Seattle (ShoWare Center), New York (Hammerstein Ballroom), Atlanta (Gwinnett Center), Miami (BankUnited Center), Dallas (Music Hall), Denver (Red Rocks). They also performed for more than 15,000 at the famed Hollywood Bowl.
About Hillsong LIVE: Hillsong LIVE is the congregational expression of worship from Hillsong Church - a global church with local expressions. Their music captures the heart and sound of Hillsong Church globally and represents the coming together of the Hillsong worship team from around the world; including Reuben Morgan, Joel Houston, Ben Fielding, Dave Ware, Annie Garratt and many more. Since 1992, Hillsong LIVE has resourced the local church and received gold and platinum album status multiple times, writing such well known worship songs as "Shout To The Lord", "Inside Out", "Hosanna", "The Stand" and "Mighty to Save," which was awarded the 2009 Dove for Worship Song of the Year. The Hillsong brands have sold more than 12 million albums.