Je'kob Releases "Faith Hope Love" Deluxe Edition
Final and Complete Installment in the "Faith Hope Love" Series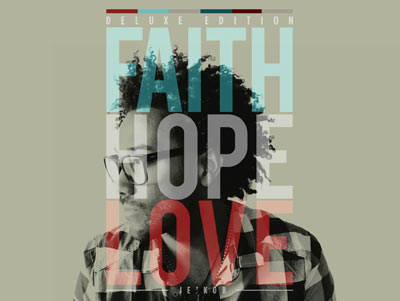 NEWS SOURCE: Save The City Records
December 3, 2013
Seattle (December 3, 2013) - Save the City Records is proud to announce the availability of Je'kob's "Faith Hope Love" Deluxe Edition, the final installment in his "Faith Hope Love" album series. The Deluxe Edition contains all 21 songs from the three part EP series, so that fans can get all of his recent music in one digital volume. Je'kob is a unique artist that spans pop and hip hop with a sound that Hot AC radio stations have found to resonate with their audiences. Je'kob's hit song "Love Is All" reached the #12 spot on Billboard and stayed on the chart for 21 weeks in 2012, and then he recently followed it up with his successful 2013 summer dance track "Don't Let Go".
To celebrate the release and the conclusion of his "Faith Hope Love" series, Je'kob has teamed up with JamTheHype.com, a leading Christian hip hop website and popular Internet radio station, to give away a signature edition XBox360 with Kinect, autographed and designed with custom graphics by Je'kob. The contest closes Tuesday evening December 3rd on JamTheHype.com's live video broadcast when the winner will be announced.
About Je'kob Washington:
Je'kob Washington previously comprised two thirds of the Warner Brothers recording group SoulJahz, who took the music industry by storm in the early 2000s with a spread of radio singles, press acclaim, and prominent appearances. Je'kob and his sister Rachael performed alongside No Doubt, Nelly, Counting Crows, Ja Rule, Ashanti, Garbage, Boyz II Men and Erykah Badu in support of their major label debut "The Fault Is History." Je'kob has been featured on CNN Headline News, E!, Billboard, The WB, plus on Sessions@AOL beside Christina Aguilera, 50 Cent, Shania Twain, Faith Hill and Red Hot Chili Peppers. Je'kob is now releasing solo music, in addition to recording with his sister Rachael as "The Washington Projects."
http://www.jekob.com
http://twitter.com/iamjekob
http://facebook.com/iamjekob