CLAY CROSSE SET TO CELEBRATE CHRISTMAS IN NEW ROLE AS WORSHIP PASTOR
Award-Winning Singer/Songwriter And Author Settles In At New Church Home at First Baptist Church of Bentonville in Arkansas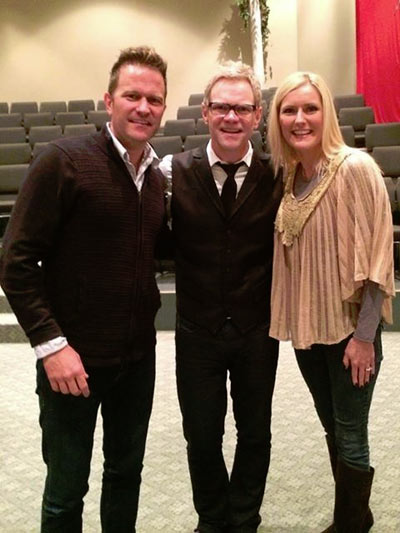 Clay Crosse, left, and wife Renee Crosse, right, chat with Steven Curtis Chapman, center, following Chapman's concert at First Baptist Church of Bentonville, where Crosse is the new worship pastor. (Clay Crosse photo)
NEWS SOURCE: McCain & Co. PR
December 5, 2013
NASHVILLE, Tenn. (December 4, 2013) - Singer/songwriter, worship leader and author Clay Crosse is set to celebrate the Christmas season in his new church home at First Baptist Church of Bentonville, in Bentonville, Ark., where the four-time Dove Award winner has been appointed to serve as worship pastor.
In his first major musical production at FBC, the church choirs, under Crosse's leadership, will present "Sing Christmas 2013!," featuring all the choirs during worship services on Sunday, December 8. A family celebration and children's choir program will be held during that evening.
For the new position, Crosse and his family relocated from their home in West Tennessee to Bentonville, headquarters to the world's largest retailer, Walmart. As worship pastor, Crosse oversees the choirs and the choirs' leadership, along with associate worship pastor, Guy Wilcox.
"We are thankful for the opportunity to be at First Baptist Church," Crosse says. "We feel confident that God has placed us here and wants us here leading. We are home."
Recently, Crosse enjoyed having his friend and fellow CCM artist, Steven Curtis Chapman, at First Baptist Church for a concert, along with artists Laura Story and Jason Gray.
Four-time Dove Award winner Crosse has scored nine No. 1 radio hits throughout his career. His latest CD, reDedication, was released October 8.
For more information about First Baptist Church of Bentonville, visit fbcbentonville.org.
For more information about Crosse, reDedication and Crosse's current book, Dashboard Jesus: Distinctive Reminders for Distracted Men, visit claycrosse.com.
About reDedication:
"I experienced a personal, formal reDedication of my life to Christ in 1998," Clay Crosse says regarding the title of his new CD. "And that decision has been working in me ever since. Every year there is a growing realization that there are still miles to go in my relationship with Christ. That's a great thing. Fifteen years later, that realization still resonates with me in a richer, even more meaningful way than it did when I first rededicated my life to Christ."
With the release of reDedication, Crosse returns with a project of songs worthy of those that first caused the industry to take note. Two singles from the CD currently are being played at Christian radio: "Working On A Building," featuring Christian music legend Russ Russ Taff and American Idol finalist Melinda Doolittle, at AC and Gospel radio formats; and "When I Lift My Hands" at Soft AC and Inspirational radio formats. "When I Lift My Hands" recently hit No. 22 on the Billboard Christian Soft AC chart.
Crosse kicks off reDedication with "I Rest In You," a jangling, acoustic guitar-driven anthem of adoration. "You're the Father / You're the Healer / Son of God and the Great Redeemer / I can trust in You because I know," Crosse joyously declares. "Every moment, every minute / Oh God, I know You're in it!"
"I Rest In You" segues effortlessly into the more mellow, laid-back title cut. The stripped down piano ballad is elegantly embellished with understated strings, allowing Crosse's signature vocals to take center stage.
Crosse employs a smoldering, thumping rock 'n' roll beat to undergird "Vessel." While the melody will tempt you to roll down the windows and crank it up loud for the whole world to hear, the lyrics are surprisingly intimate, as Crosse declares his desire to be used as a vessel of God. "Waving A White Flag" is another bouncy, radio-friendly pop number that extols the benefits of surrendering to God's will.
While Crosse has the pop radio genre down solid, he also knows how to pull back when he needs to, allowing the music and lyrics room to swell. Such is the case with the gorgeous, cinematic worship song "Your River's Wide Enough," and Crosse's emotive vocals add just the right touch of pathos to drive the prayerful, piano-driven praise ballad "When I Lift My Hands," straight into his listeners' hearts and souls.
Crosse proved he knows how to merge his vocals seamlessly with other great singers when his 1999 collaboration with Bob Carlisle and Bebe Winans, "I Will Follow Christ," took home the Dove Award for Inspirational Song of the Year. Lightning might just strike twice as Crosse shares the microphone with Taff and Doolittle on the groove-based, "Working On A Building."
The classic Hillsong corporate praise anthem, "The Stand," appears custom made for Crosse's passionate vocal delivery, as does the equally anthemic, but more personal praise song, "All Because of You." As Crosse closes the project with the poignant and prayerful, "Good Morning Lord," he allows a simple acoustic piano to surround his soulful, evocative vocals.
Finger-on-the-pulse songwriting, pristine instrumentation and spot-on production by long-time industry vet Regie Hamm, combine with Clay Crosse's signature vocals to make reDedication one of the finest projects of his career.
"reDedication, as a spiritual event, is something that has strongly impacted not only my own life, but the life of my entire family," Crosse says. "It's my prayer that reDedication, the album, will encourage believers to re-examine their own lives and help lead them into a deeper walk with Christ."
About Clay Crosse:
Clay Crosse was a FedEx courier for six years before making his recording career debut on Reunion Records in 1994, the same year he took home a Dove Award for Best New Artist. His first record, My Place Is With You, yielded his signature song "I Surrender All." Including his latest CD, reDedication, Crosse's discography includes six studio albums, three compilation albums and one live worship album, but the multi-talented performer doesn't stop there.
He is also a gifted author. Crosse's most recent book, Dashboard Jesus: Distinctive Reminders for Distracted Men, a humorous and compassionate guide for men of all ages, released in March 2013.
Crosse and his wife, Renee, who were high school sweethearts, live in Bentonville, Ark., where Clay Crosse serves as worship pastor at First Baptist Church. They have four children: Shelby, 20; Savannah, 16; Garrett, 14; and Sophie, 8.
In 2001, Clay and Renee Crosse founded Holy Homes Ministries, encouraging Christian families to come back to a close relationship with Christ and encouraging non-Christian families to come to know Christ. They travel the country leading marriage enrichment events along with Clay Crosse's singing schedule. They are also spokespeople for Holt International Adoption and have adopted twice from China (Sophie in 2005 and Garrett in 2007).
For more information about Crosse, reDedication and Dashboard Jesus, visit claycrosse.com, like him on Facebook (facebook.com/ClayCrosseMinistries) or follow him on Twitter (@claycrosse).
For more info on Clay Crosse visit the JFH Artists Database.