ELLIE HOLCOMB SET TO DEBUT FIRST SOLO ALBUM IN FEBRUARY, SUCCESSFUL LAUNCH TO KICKSTARTER CAMPAIGN
Holcomb Is Special Guest On Andrew Peterson's Annual Behold The Lamb of God Tour This December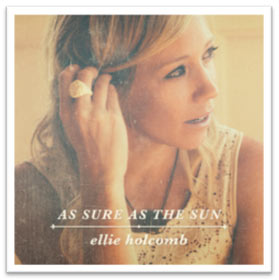 NEWS SOURCE: Merge PR
December 4, 2013
Nashville, Tenn - 4 December 2013 - She's a singer, a songwriter, and a storyteller. She's a wife and a mother and a former schoolteacher. For the past seven years she's been part of her husband's band, Drew Holcomb and The Neighbors. Now, this born and raised Nashville, Tennessee native is set to release her debut full-length solo album. We introduce you to Ellie Holcomb.
Holcomb's first solo effort, titled As Sure As The Sun, will release February 18, 2014 (Full Heart Music) and is the follow up to her summer side-project, the EP With You Now. This new LP features ten brand new songs, all written by Holcomb and each carefully woven with scripture into the lyrics. Encouraged for quite some time by her husband to record her own music, Holcomb's hope with her new collection of songs is that they will be reminders of truth by refreshing, encouraging, and blessing all who hear them.
To garner support for the making of the album, Holcomb began a Kickstarter campaign in mid-November. In just a few weeks time, the campaign has received outstanding support towards achieving her goal. As support continues to be pledged, it is her hope that many more people will be able to hear and share this new music.
Currently, Holcomb is the special guest on Andrew Peterson's successful "Behold The Lamb of God" Christmas Tour. Kicking off last night in Nebraska, the tour will run through Dec. 21. Official tour dates are listed below.
To find out more about Ellie Holcomb as well as her Kickstarter campaign, please click on the links below.
Behold the Lamb of God Christmas Tour:
Dec. 3 - Bethany Lutheran Church | Elkhorn, NE
Dec. 7 - Church Of The Good Shepherd | Durham, NC
Dec. 8 - Independent Bible Church | Martinsburg, VA
Dec. 10 - St. James United Methodist Church | Montgomery, AL
Dec. 11 & 12 - The Historic Ryman Auditorium | Nashville, TN
Dec. 13 - Clear Creek Community Church | League City, TX
Dec. 14 - Munger Place Church | Dallas, TX
Dec. 15 - Memphis Harding Academy | Memphis, TN
Dec. 16 - First Presbyterian Church | Augusta, GA
Dec. 17 - Billy Graham Training Center At The Cove | Asheville, NC
Dec. 18 - Passion City Church | Atlanta, GA
Dec. 19 - Miamisburg Christian Church | Miamisburg, OH
Dec. 20 - Bishop O'Connell High School | Arlington, VA
Dec. 21 - Faith Church | Milford, OH