Braveheart Sword Finds a New Battle in TRACING DAYS Music Video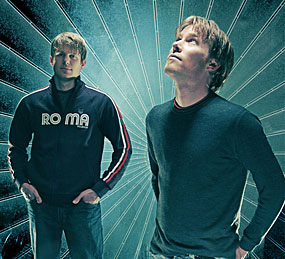 NEWS SOURCE: Nashville PR
December 23, 2013
(BOZEMAN, Montana) -- Christian rock band TRACING DAYS released a new music video today for their single, "Masquerade." Shot in Bozeman, Montana, the video was an international collaboration of talent from the United Kingdom, Italy and the Bozeman-based band that is made up of Lonnie Bos, Logan Schelvan, Kendall Kanning and Jonathan Skillman.
Directed by Matt Ely (Aerosmith, Melissa Etheridge), who also directed and filmed TRACING DAYS first video ("Life Outside"), the "Masquerade" video is set in a fantasy world and features the iconic sword from the movie Braveheart - thanks to the band's friend (and sword owner) Scott Kinzy.
"It was amazing to paint on a video canvas with artists from all over the world," said TRACING DAYS frontman Lonnie Bos. "Allison Pitman, our voiceover talent, did a superb job, and her experience with Disney and others brought a kind of gravity to the video that was just great. Danilo Recevic, from Milan, Italy, provided the drawings for our animations, which really took the video to the next level."
The international collaboration also included art director and color expert Stephen Downer, who has worked on projects for DC Comics and others; local filmmaker Jennings Barmore, a major contributor and visionary who provided additional footage and all editing; pilot Wayne Walker, who assisted with aerial footage; costuming from MSU Shakespeare in the Park; and SCA, a campus group that provided armor and actors for the live action sequences.
The "Masquerade" video tackles some of the philosophical ideas addressed in the song and the band's debut album, Control. "I began to realize at one point, I'd spent most of my life pretending, and hiding behind these masks," says TRACING DAYS frontman Lonnie Bos. "This song goes after that fear of being known, the temptation to find identity in stuff or success, and the vanity that follows if we keep pretending."
Control (Full Color Records / Infinity Music Distribution) is available now at iTunes, Amazon and wherever music is sold.
# # #