ELLIE HOLCOMB DEBUTS FIRST SOLO ALBUM IN FEBRUARY DUE TO SUCCESSFUL KICKSTARTER CAMPAIGN
Goal Reached In Three Days, Is 4th Overall Top Christian Kickstarter Campaign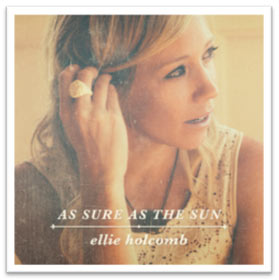 NEWS SOURCE: Merge PR
January 7, 2014
Nashville, Tenn - 7 January 2014 - Artist, songwriter and storyteller Ellie Holcomb, who releases her anticipated first solo project on February 18, As Sure As The Sun (Full Heart Music), just can't hold in her excitement. Setting out in November with a Kickstarter campaign to garner support for the making of her album, Holcomb set a goal of $40,000 to be raised in 50 days, which was met in just three days. At the end of the campaign, Holcomb raised over $108,000 with 1,756 backers. This Kickstarter campaign placed her 4th overall top Christian Kickstarter Campaign as well as placing in the Top 30 Most Funded Kickstarter Music campaigns of all time.
"I'm not sure that I could be more grateful or humbled by the success that our Kickstarter campaign has had," Holcomb shares. "It still feels like a dream in some ways. I think my favorite thing about Kickstarter is that I'm beginning my journey as an artist with a team of people who believe in me, with a team of people who want to be a part of my story and the songs I've written. I've got 1,756 people who quite literally have my back, and who have spoken life into me along the way. I couldn't think of a better way to release my first full length record and what a beautiful thing for a community of people to make music together."
Holcomb continues, "I keep thanking God that I've seen a little glimpse of His faithfulness and provision. I'm looking forward to all that's ahead, but I'll never stop looking back to this season of seeing people surround and support me and my music. I think it will always be one of my fondest memories as an artist, and I'm hoping that when my backers hear this album, they'll be thrilled that they were a part of it all from the beginning."
As Sure As The Sun, which is the follow up to her summer EP side-project With You Now, features eleven songs, all written by Holcomb and each carefully woven with scripture into the lyrics. Encouraged for quite some time by her husband to record her own music, Holcomb's hope with her new collection of songs is that they will be reminders of truth by refreshing, encouraging, and blessing all who hear them. Ellie Holcomb, a Nashville native, is a seasoned artist, as well as a wife and a mother and a former schoolteacher and for the past seven years, she's been part of her husband's band, Drew Holcomb and The Neighbors. This past December, she was the special guest on Andrew Peterson's annual "Behold The Lamb of God" Christmas Tour. To find out more about Ellie Holcomb, please click on the links below.