EBONY Celebrates Black Love in the February Issue Showcasing Three African American Power Couples Including David And Tamela Mann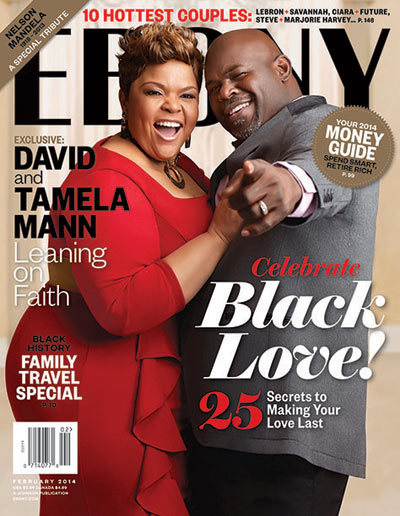 NEWS SOURCE: TKO Marketing
January 8, 2014
CHICAGO (January 8, 2014) - To usher in Valentine's Day, EBONY magazine is showcasing the love among three African-American power couples in its February 2014 issue. Nick Cannon and Mariah Carey, Carmelo and La La Anthony and David and Tamela Mann will each have their own cover, and inside the magazine, readers can learn about the spouses' love stories, how they knew they had found "the one," and what they do keep the fires burning.
This is the first time each of the celebrity power couples will grace a magazine cover with his or her spouse and offer exclusive insight into their relationship. The photo layouts show David and Tamela giving readers a peek at how sweet and playful they are with each another.
When asked what ignites their love and how they maintain the passion in their relationships, the following responses were given:
"Stay in love because when you're in love, it covers a multitude of fault. Our relationship wasn't based on good sex or having a lot of money. It was based on just straight friendship. That's what has kept us." -David Mann
"I pray and ask God to keep my heart and my eyes burning only for David Mann. I speak his name in my prayers, because I want the desire to stay, so when he touches me, I get chills." -Tamela Mann
The issue is available on newsstands beginning January 7.
###
About EBONY: EBONY is the No. 1 source for an authoritative perspective on the African-American community. The monthly magazine, now in its 69th year, reaches nearly 11 million readers. EBONY features the best thinkers, trendsetters, hottest celebrities and next-generation leaders of African-Americans. EBONY ignites conversation, promotes empowerment and celebrates aspiration. Available nationwide on newsstands and the iPad, EBONY is the heart, the soul and the pulse of African-Americans.
Follow EBONY and tell us what's on your mind: @EBONYMag on Twitter | EBONYMag on Facebook| EBONYMag.Tumblr.com on Tumblr| EBONY.com online
EBONY: It's more than a magazine, it's a movement.