MAYFLY ANNOUNCE RELEASE DATE FOR VEREOR DEUS, NON DOGMA EP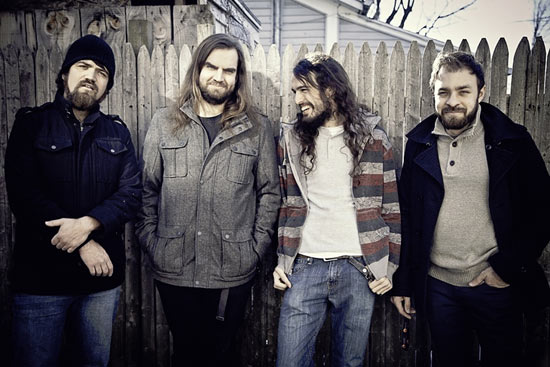 NEWS SOURCE: Gorilla PR
January 21, 2014
(Nashville, Tenn.) January 21, 2014 - Nu-Metal rock band Mayfly have announced the official release of their upcoming eight-track EP entitled Vereor Deus, Non Dogma, due to release February 11, 2014 on Voluminous Records. The single "Eternal Respiration" was released digitally October 29th and is available on iTunes, AmazonMP3 and other top digital retail sites worldwide.
The politically-charged message of the Ohio-based band tackles many of today's most serious political and social issues head on. The blood curdling screams of vocalist/guitarist Jared Lacey fuse with the aural assault of lead guitarist Joel "Swamp Fox" Holycross and bassist Tony Joe "Bertolli" Ford as well as the jackhammer-like drumming of Adam Thompson to forge a mammoth wall of sound. Reminiscent of some of the greatest Nu-Metal bands of the past (think old Deftones), Mayfly's live show exudes a sweaty, testosterone-laden charisma that is earning them a reputation as a "can't miss" live act throughout the Midwest. They're busy earning fans the hard way - one at a time.
Bassist Ford and guitarist Holycross were friends and mutual members of previous projects (Truth End Ever, Gold Plated Ocean, Toxemia) before coming together under the banner of Mayfly. Vocalist/guitarist Jared Lacey later joined the band after meeting Holycross at a concert they both attended. Thompson joined the band in late 2012 to complete the current lineup. Speaking on the lyrical content for the songs, lead guitarist Joel states, "the lyrics are filled with a lot of political angst. We see a lot of propaganda in society these days and seek to reveal what is often hidden behind the fog of what remains untold. We're really just interested in discovering the truth in all things."
The album was produced by Justin Moore whose recording credits include Red Morning Voyage, Corpus Christi, The Beneath and Great American Beast.
Eternal Respiration, the first ordinance from Mayfly's arsenal, will also receive a video treatment shortly. The video is expected to be ready around the same time as the EP release. In reference to the song, Holycross reveals "the song came about as Tony, our bass player, was smoking a cigarette. He made a comment asking 'how can I speak truth about life when I'm inhaling death every day?' So he took that theme and ran with it. So the song is basically about the human condition and rising above the things that drag us down."
Click here to view the Vereor Deus, Non Dogma album teaser video on YouTube!
# # #