JOHN MARK MCMILLAN ANNOUNCES HIS "ARE WE ALL ANIMALS TOUR" KICKING OFF 3/29 IN ORLANDO
McMillan's Brand New LP Borderland Available March 4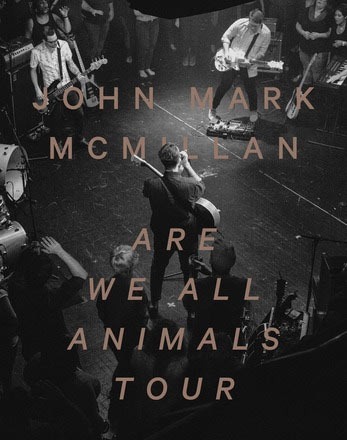 NEWS SOURCE: Merge PR
January 27, 2014
NASHVILLE, TENN. – January 27, 2014 – John Mark McMillan has announced the dates to his upcoming "Are We All Animals Tour" this spring, which kicks off March 29 in Orlando, FL. McMillan will be promoting his fourth album, Borderland, which will be available March 4 (Lionhawk Records).
Additionally, singer/songwriter Brady Toops will open shows at select dates in the southeast. "Are We All Animals Tour" dates are listed below and more dates are being added at press time. An updated list of tour dates will be available at johnmarkmcmillan.com/tour.
Are We All Animals Tour dates*:
03/29 - Orlando, FL
04/02 - Tallahassee, FL
04/03 - Pensacola, FL
04/04 - Monroe, GA
04/05 - Rainbow City, AL
04/08 - Nashville, TN
04/10 - Knoxville, TN
05/07 - Richmond, VA
05/08 - Vienna, VA
05/09 - Manheim, PA
05/10 - New York City, NY
*More dates to be added. All tour dates subject to change.
ABOUT Borderland
"Borderland speaks to the idea of the 'place between places,'" says McMillan, "which is where I feel I've been living as a person, as an artist, and as a believer for a couple of years. While few things describe the Christian experience more than the 'place between places,' it is also a concept everyone can relate to. We all walk lines between work and family, love and responsibility, art and commerce, passion and business and so on. Many of these songs are my commentary from a life between the crevices and on the verge."
ABOUT JOHN MARK MCMILLAN
In addition to the anticipation around Borderland, this Charlotte, North Carolina native's previous work continues with its own success. In 2012, the song "Seen A Darkness," from McMillan's last album Economy, was featured in the promo for ABC's "Grey's Anatomy" episode, "Hope for the Hopeless" (Season 8: Episode 12). His single "How He Loves" was recently listed by Integrity Music as one of the 25 most influential worship songs in the past 25 years and still today ranks on CCLI's Top 25 chart. John Mark McMillan is proud to be an ambassador for World Vision and an advocate for its work in Bahkari, India.
# # #
For more info on John Mark McMillan visit the JFH Artists Database.