Forerunner Music Offers Endless: Songs Of Eternity Compilation That Releases February 11, 2014
Project Marks First Volume of Worship Anthology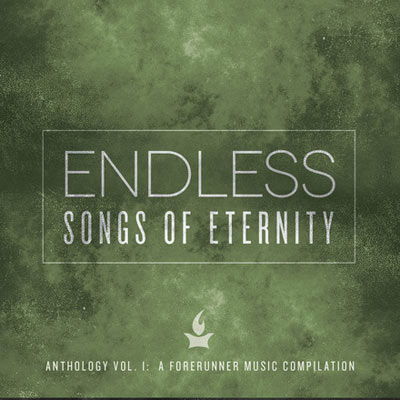 NEWS SOURCE: Bozeman Media
January 29, 2014
Kansas City, MO (January 29, 2014)- Forerunner Music, a ministry of the International House of Prayer in Kansas City, MO, releases Endless: Songs of Eternity on February 11, 2014. The project launches an ongoing worship anthology, celebrating the best songs from IHOPKC's more than 150 albums of worship, adoration, and devotional music. A complete track listing follows this release.
Each volume is centered around a specific theme, with Endless: Songs of Eternity focusing on the second coming of Jesus, the millennial kingdom, and eternity. With tracks from beloved IHOPKC worship leaders, Misty Edwards, Matt Gilman, Cory Asbury, Jon Thurlow, and many others, this album inspires listeners to cultivate an eternal perspective as they live their daily lives.
"Coming Home" is written from the perspective of Jesus speaking to those enslaved by human trafficking. The lyrics promise that the cry of every captive is heard and that Jesus will return home to set them free. "Shine on Us," sung by Cory Asbury, speaks of our longing to become pure in preparation for one day seeing Jesus face-to-face. Pas Neos delivers, "City of the Great King," and it immediately stands out on this album for its electronic elements and driving beat. Vocalist Bob Powers explores the millennium and New Jerusalem, singing of how all things will be made new and every captive set free when Jesus returns. "Glory Will Cover the Earth" features worship leader Justin Rizzo, who declares how people of the world will proclaim the majesty of Jesus when He returns to reign on earth.
"We're delighted to release Endless: Songs of Eternity as the first project in our newly formed Anthology series," says Nick Syrett, President, Forerunner Music. "This series has been created to take some of the best songs from our history and release them thematically. We are blessed to have such talented worship leaders who show their faith so passionately through their music. To have an outlet to bring them together for one theme and deliver this message to Christian music lovers around the world helps to fulfill the ministry goals for IHOPKC."
Justin Rizzo says about the release,"The Endless album features songs that focus on eternity and our hope that Jesus will reign on earth forever. These songs bring to the forefront the glorious reality that we will be with Him forever in eternity. I am so excited to have 'Glory Will Cover the Earth' featured on this project."
Upcoming releases in the Anthology Series will focus on the themes of intimacy with Jesus, the Psalms, and the majesty of God.
To find out more about this and other Forerunner Music projects, visit: ihopkc.org/music/.
About Forerunner Music
Forerunner Music is the official record label of the International House of Prayer of Kansas City, Mo., an evangelical missions organization centered on 24/7 worship and prayer. Having released more than 100 albums since its inception in 2001, the label has produced records for artists such as Misty Edwards, Cory Asbury, and Matt Gilman. Forerunner Music albums have reached as high as No. 9 on the Billboard charts and No. 1 on iTunes' Christian & Gospel charts.
About the International House of Prayer of Kansas City
The International House of Prayer of Kansas City (IHOPKC) is a 24/7 prayer ministry that has held worship-led prayer meetings non-stop for 14 years. Since 1999, bands of 10 or more singers and musicians have led an unending cycle of two-hour prayer-and-worship sets-all day and night-in the ministry's Global Prayer Room. The ministry streams this continual worship and prayer live on its website and sees an average of 11,000 viewers a day from around the world. IHOPKC includes a university, IHOPU, with ministry, music, media, and missions schools. The organization is committed to justice and compassion outreaches involving adoption, human trafficking, and inner-city programs. IHOPKC's vision is to work in relationship with the wider Body of Christ to serve the Great Commission, seeking to walk out the two great commandments to love God and people. The International House of Prayer is an evangelical missions organization that has a growing community of about 4,000. Visit www.ihopkc.org for more information.
Endless: Song of Eternity track listing:
1. I Can't Wait - Merchant Band
2. Psalm of Abraham - Audra Lynn
3. Coming Home - Jonas Park
4. Hallelujah - Cory Asbury
5. City of the Great King - Pas Neos
6. Shine on Us - Cory Asbury
7. I Will See Your Glory - Tim Reimherr
8. Eternity - Misty Edwards
9. Glory Will Cover the Earth - Justin Rizzo
10. Longing for the Day - Julie Meyer
11. New Jerusalem (Live) - Matt Gilman
12. Rend (Live) - Misty Edwards
# # #