K-LOVE PARTNERS WITH NASCAR DRIVER MICHAEL MCDOWELL FOR 2014 DAYTONA 500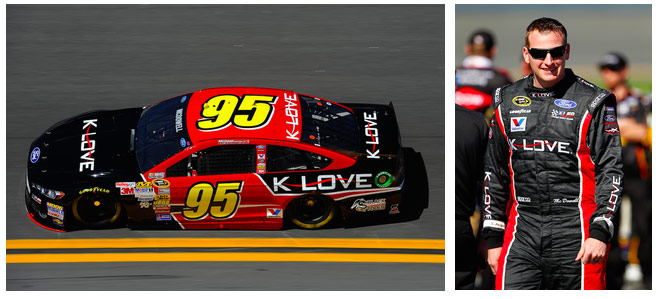 NEWS SOURCE: Merge PR
February 18, 2014
NASHVILLE, TENN. – February 18, 2014 – K-LOVE announces partnership with NASCAR Sprint Cup and Nationwide Series driver Michael McDowell and Leavine Family Racing (LFR) for this week's season-opening DAYTONA 500 on Sunday, February 23. As the primary sponsor, K-LOVE will appear on the No. 95 Ford Fusion car driven by McDowell for this weekend's race as well as additional NASCAR Sprint Cup Series races this season. "This is an opportunity for K-LOVE to be in front of a huge audience with this high-profile race while sharing the message of Jesus," shares K-LOVE Chief Creative Officer David Pierce. "We have partnered with Michael McDowell in years past because he has a huge heart for God and wants to make a difference for Christ through his NASCAR platform. This is what this partnership is all about.
McDowell has sported the K-LOVE logo on his cars in 2013, including a top 10 finish at Daytona 500, along with the Johnsonville Sausage 200 and Nationwide's Children's Hospital 200. K-LOVE has sponsored McDowell in both the No. 18 Toyota and No. 98 Ford, strengthening the organization's NASCAR presence.
K-LOVE funding for this partnership is completely separate of the donor financial support received from listeners. The NASCAR Sprint Car Series will begin its 2014 season on Sunday, February 23 with the 56th Annual DAYTONA 500 at the Daytona International Speedway.
For more information on Michael McDowell visit www.mmcdowell.com.
ABOUT K-LOVE: K-LOVE creates compelling media designed to inspire and encourage people to develop a meaningful relationship with Christ. K-LOVE is listener supported and delivers positive, encouraging contemporary Christian music through its 446 signals across 47 states. For more information visit: www.klove.com