NEEDTOBREATHE Announces First Leg of
North American Headlining Tour
CONAN performance confirmed for February 20

New album Rivers In The Wasteland out April 15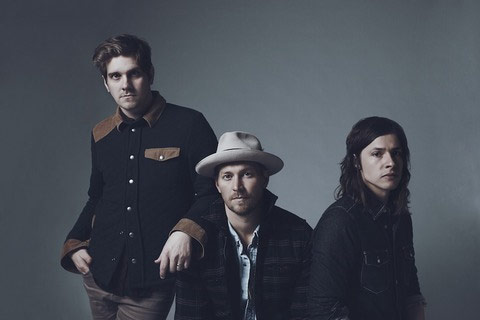 NEWS SOURCE: The M Collective
February 18, 2014
Nashville, Tenn. (February 18, 2014) - NEEDTOBREATHE is excited to announce the first leg of an extensive North American headlining tour in support of their anticipated new album Rivers In the Wasteland, out April 15 on Atlantic/Word Records. On May 1, the Charleston, SC rock band will kick off their tour which will see them visit some of the country's most notable venues, including The Wiltern and The Fillmore, as well as perform at a number of summer festivals including Ichthus Festival, Creation NE and DownPour Festival. Glassnote Records artist Foy Vance will be direct support on this leg.
To give fans a sneak peek into these new songs live, NEEDTOBREATHE will return to CONAN on February 20 to perform their Triple A single "The Heart." Listen to the track here: http://www.youtube.com/watch?v=LIsvzMwDvwM
Rivers In the Wasteland is the follow up to the band's acclaimed album The Reckoning, a collection of timeless American rock and roll that caught the attention of many including The New York Times who simply said "this gifted band makes anthemic Southern rock" and Entertainment Weekly who applauds the band's "arena muscle."
With non-stop touring and gripping performances, the band's powerful live show - one which NPR praises as "intriguing and vivacious" - has helped build a dedicated fan base, one that allows them to play in front of thousands of people across the country. NEEDTOBREATHE will spend all of 2014 on the road!
"Difference Maker" continues to impact Christian radio, breaking into the Top 20 on the Hot AC/CHR chart last week and continuing to climb up the National Christian Audience chart.
Rivers In the Wasteland was co-produced by the band with the help of various producers including Joe Chiccarelli (My Morning Jacket), Kevin Augunas (The Lumineers), Ed Cash (Chris Tomlin, TobyMac) and Jerrod Bettis (Adele). Pre-order Rivers In the Wasteland now and receive the new song "State I'm In," along with two other instant grat tracks - "The Heart" and "Difference Maker." Visit needtobreathe.com to purchase.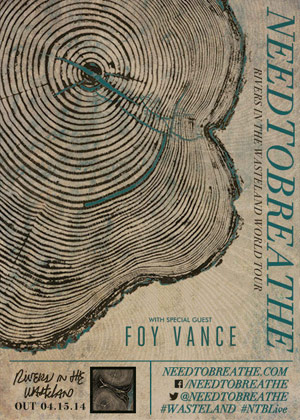 Tour Dates (more to be announced):
5/1/14 - Gillioz Theatre - Springfield, MO *
5/2/14 - Brady Theater - Tulsa, OK *
5/3-4/14 - Suburbia Music Festival - Plano, TX
5/5/14 - Marquee Theatre - Phoenix, AZ
5/6/14 - The Wiltern - Los Angeles, CA
5/7/14 - The Fillmore - San Francisco, CA *
5/10/14 - The Neptune - Seattle, WA
5/11/14 - Vogue Theatre - Vancouver, BC *
5/14/14 - The Fillmore - Denver, CO *
5/15/14 - Uptown Theater - Kansas City, MO *
5/16-18/14 - Hangout Festival - Gulf Shores, AL
5/31/14 - The Tabernacle - Atlanta, GA *
6/1/14 - The Tabernacle - Atlanta, GA *
6/3/14 - Stage AE - Pittsburgh, PA
6/4-7/14 - Ichthus Festival - Lexington, KY
6/5/14 - House of Blues - Cleveland, OH *
6/6/14 - Murat Theatre - Indianapolis, IN *
6/8/14 - Pabst Theater - Milwaukee, WI
6/10/14 - Simon Estes - Des Moines, IA
6/12/14 - Skyway Theatre - Minneapolis, MN *
6/13/14 - The Pageant - St. Louis, MO *
6/14/14 - House of Blues - Chicago, IL *
6/15/14 - House of Blues - Chicago, IL *
6/17/14 - Town Ballroom - Buffalo, NY *
6/19/14 - Danforth Theatre - Toronto, ON
6/20/14 - The Fillmore - Detroit, MI *
6/21/14 - Meijer Gardens - Grand Rapids, MI *
6/25-28/14 - Creation NE - Mt. Union, PA
8/16-18/14 - DownPour Festival - Great Falls, MT
* With Foy Vance
About NEEDTOBREATHE:
NEEDTOBREATHE is an American Rock 'n' Roll Band from South Carolina, effortlessly woven from the musical traditions and faith of their upbringing in the Deep South of the United States. Made up of brothers Bear Rinehart (vocals, guitar) and Bo Rinehart (guitar, vocals), as well as Seth Bolt (bass, vocals), the band hit their big break in 2005 when they signed to Atlantic/Lava/Word Records. The career to follow would include four full studio albums, chart-topping cross-genre success, multiple headlining tours and media coverage on CONAN, The Tonight Show with Jay Leno, Late Night with Jimmy Fallon, Late Show with David Letterman, MTV, FOX and much more. The band's fifth studio album, Rivers In the Wasteland, will be available April 15, 2014.
[Get Connected with NEEDTOBREATHE]
Website // needtobreathe.com
Facebook // facebook.com/needtobreathe
Twitter // twitter.com/needtobreathe
YouTube // youtube.com/NEEDTOBREATHEVIDEOS
# # #
For more info on NEEDTOBREATHE visit the JFH Artists Database.