STRYPER ANNOUNCES VIDEO CONTEST FOR LATEST SINGLE, "TE AMO"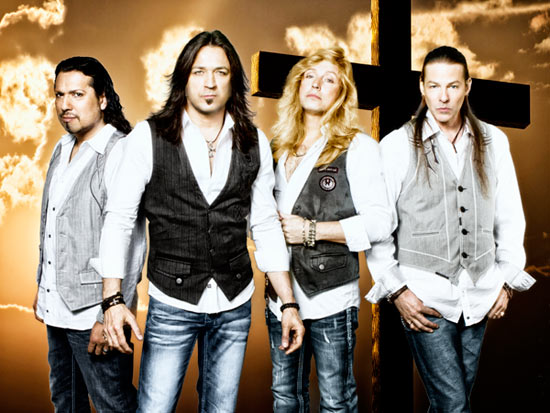 (Photo credit: Mark Weiss / Editing: Mark Weiss & Tina Enos)
(Photo ID left-to-right: Oz Fox, Michael Sweet, Robert Sweet, Tim Gaines)
NEWS SOURCE: Nashville PR
February 27, 2014
(NEW YORK, NY) -- Multi-platinum rock band Stryper is pleased to announce a very special contest around the latest single from their new studio album, NO MORE HELL TO PAY. "Te Amo" will be made available as a free download on the band's official website at www.stryper.com. Once fans have downloaded the track, they can utilize their artistic and technological skills to make a music or lyric video for the song. Once they have created their masterpiece, they can submit the video for review by a special panel of judges. The judges will pick their 10 favorite videos from the submissions, and those top 10 videos will then be posted on Noisecreep.com for not only Stryper fans, but hard rock and heavy metal fans around the world to vote for their favorite.
The grand prize winner will have their video posted on Stryper's official YouTube channel, Frontiers Records' YouTube channel and Stryper.com, with director credit for the video on all sites. The winner will also receive a Skype call with vocalist/guitarist Michael Sweet and a prize package containing Stryper merchandise items, guitar picks, drumsticks and an autographed copy of NO MORE HELL TO PAY.
For full details, including important rules and disclaimers, please visit www.stryper.com.
Fans who don't want to participate are still encouraged to visit www.stryper.com to download the single if they don't already own the new album NO MORE HELL TO PAY.
Stryper's most recent album, NO MORE HELL TO PAY stormed the charts in November 2013 debuting at #3 on the Current Hard Music Albums and Top Hard Music Albums charts, #6 on the Top Current Rock Album charts, #33 on the Billboard Top 200 Current Albums and #35 on the Billboard Top 200 selling over 9500 copies the first week. Stryper also regained their dominance on the Christian charts landing at #2 on the Contemporary Christian Albums and #3 on the Billboard Top Christian/Gospel Albums. NO MORE HELL TO PAY also reached #1 on the iTunes Top Rock Album Charts and #8 on the iTunes Top Album Charts when it was released on November 5th, 2013.
Stryper is one of the top Christian rock bands of all time. Comprised of the original line-up, Stryper has been rocking since 1984, and is responsible for such '80s metal classic albums as Soldiers Under Command, To Hell With The Devil and In God We Trust. In fact, Stryper is the first band to ever have two songs in MTV's Top 10 simultaneously with their hits "Free" and "Honestly." After a sabbatical for much of the 1990's, Stryper returned strong in the early 21st century. To date, the Dove Award-winning and Grammy nominated band has sold upwards of 10 million records worldwide.
For more info on Stryper visit the JFH Artists Database.