THE VESPERS AND CURE U JOIN FORCES FOR
"CURE U ROADTRIP TOUR"
Proceeds from 17-city Tour, NoiseTrade Album And Merchandise Sales to Benefit CURE International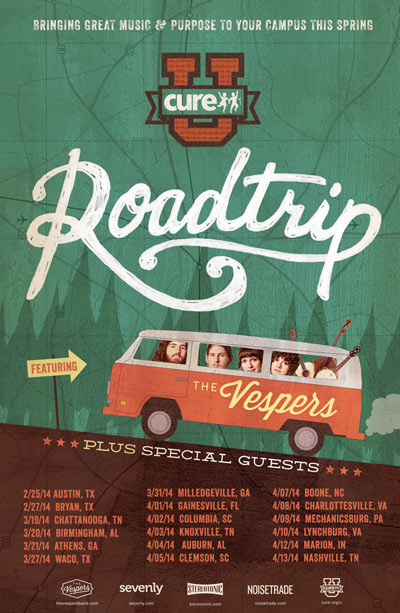 NEWS SOURCE: Springboard Entertainment
March 20, 2014
Lemoyne, PA (March 20, 2014) – Cross-country campus network, CURE U, has joined forces with southern roots/Americana band, The Vespers, to spread the word about CURE International. The "CURE U Roadtrip Tour" kicked off last night in Chattanooga, TN and will travel through 14 additional cities across the Southeast this Spring, aiming to showcase the lives that have been impacted around the world through the life-saving work of the organization and impress upon audiences how much more can be done. In addition to the tour, CURE U has partnered with NoiseTrade to offer the Roadtrip Compilation, featuring songs from artists performing on the tour. All proceeds from the tour, tips from the NoiseTrade downloads and sales from Roadtrip Tour merchandise will go directly to funding the work of CURE. Full details of the Spring Roadtrip and CURE U can be found at www.cure.org/u.
"CURE U is a network of students from universities around the country who support CURE on their campuses through fundraising, awareness and a spiritual ministry," explains Katie Rae Spell, CURE's University Programs Coordinator. "The students work to raise awareness for CURE, serve in our hospitals during the summer and grow as individuals in leadership through this program. We are doing the Roadtrip Tour because playing for the college venue is the way to go! They may not have tons of money like other generations but they are a group of society passionate about life and change. Getting to see them use that passion to then advocate for our kids is more than I could imagine and I believe they could move mountains with that kind of excitement!"
The CURE U Roadtrip Tour began with two preview shows in Austin and Bryan, TX in February. The full tour kicked off last night in Chattanooga, TN and on to Birmingham, AL tonight, with 14 additional cities mapped out through April 13, where the Roadtrip will make its final stop in Nashville, TN.
March 20 // Birmingham, AL
March 21 // Athens, GA
March 27 // Waco, TX
March 31 // Milledgeville, GA
April 1 // Gainesville, FL
April 2 // Columbia, SC
April 3 // Knoxville, TN
April 4 // Auburn, AL
April 5 // Clemson, SC
April 7 // Boone, NC
April 8 // Charlottesville, VA
April 9 // Mechanicsburg, PA
April 10 // Lynchburg, VA
April 12 // Marion, IN
April 13 // Nashville, TN
Nashville, TN-based Americana/folk/roots band, The Vespers, are headling the Roadtrip. Made up of sister duo, Callie and Pheobe Cryar, and brother pair, Bruno and Taylor Jones, the band has an extensive underground following garnered through heavy touring and word of mouth.
"We are extremely happy to have The Vespers on the Roadtrip with us! They are an incredible group of people who, from getting to know them, I feel blessed to be working with," Spell says. "They are passionate about their music and using it as a platform for a greater cause. I couldn't be more thrilled to know they want to focus that on our kids!
Band member, Bruno Jones, adds, "The Vespers are really excited to get to not only do what we love on the Cure U Tour, and play music, but to do it with a greater purpose each night. It gives us tons of energy to perform knowing we could be helping a child get healed."
In addition to the tour, CURE U is partnering with online music outlet, NoiseTrade, to offer The Roadtrip Compilation, featuring songs from The Vespers and supporting acts on the tour, including Judah & the Lion, SHEL (a Noisetrade exclusive song), Carolina Story, Votary, The Gray Havens, Lainey Wright and a bonus song from longtime CURE supporter Talain Rayne. Free to download, all tips left via the site will go directly to fund the work of CURE. The Roadtrip Compilation can be downloaded HERE.
Complete details about "CURE U Roadtrip Tour," CURE U and CURE International, can be found on the CURE U website. Daily updates will be made via Facebook and Twitter.
ABOUT CURE INTERNATIONAL
CURE International heals the sick and proclaims the Kingdom of God. It is the largest provider of reconstructive surgery to disabled children in the emerging world. Since opening the doors of its first surgical teaching hospital in Kijabe, Kenya, in 1998, CURE's focus on bringing healing to developing nations has resulted in more than 2.1 million patient visits and over 150,000 surgeries to correct physically disabling conditions. CURE has also trained more than 6,600 medical professionals, raising the standard of care in the countries where it operates. Please visit http://cure.org for more information.
ABOUT THE VESPERS
A Southern roots family reunion, The Vespers are uniquely made up of two sibling duos; the Cryar sisters, and the Jones brothers. The four have distinguished their sound with an arsenal of acoustic instruments and harmonies only siblings can create. Their showmanship generates a roller coaster of sight, sound, and emotion and their inherent chemistry and instrumental versatility continues to set them apart. The band has independently released two full-length records and left a reputable impression on both Americana and Christian audiences. They have toured all over the United States in their short 3 years, playing all different environments from colleges and festivals to listening rooms and theaters.
# # #