Carlos Whittaker Releases New Book "Moment Maker" This Week
Celebrates Release Week with Book Party and Appearance at Catalyst West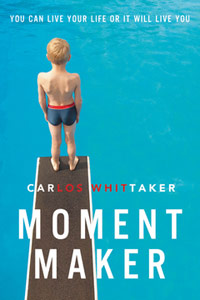 NEWS SOURCE: The M Collective
April 4, 2014
Nashville, TN (April 4, 2014) - Life isn't meant to fit in a bucket. For Carlos Whittaker, living deliberately is a way of life and that's what he's talking about in his brand new book "Moment Maker - You Can Live Your Life or It Will Live You." Available beginning this week (April 1), "Moment Maker" brings together what it looks like to "Create," "Receive" and "Rescue" moments in your life. As a long-time thought leader, Carlos Whittaker has been recognized for his 'making moments' through a certain viral video that received a People's Choice Award, his segment on TLC's "LA Ink" and through his popular blog. Carlos celebrated the release of "Moment Maker" earlier this week with friends at a Book Release Party in Southern California where the group bottled custom "Moment Maker" wine at The Wine Artist. Following the event, he spoke at the annual Catalyst West conference on Thursday and lead the entire conference in a special moment making experience.
Carlos shares about "Moment Maker" in his EPK: https://www.youtube.com/watch?v=FhcwxAD1PGw
Next Monday, April 7, join Carlos LIVE on The Harvest Show for an exclusive interview on "Moment Maker." For tune-in details, visit www.harvest-tv.com. Carlos recently spoke on the book on Moody Radio's "This is the Day," hear his interview with Nancy Turner here.
Check out what people are saying about "Moment Maker - You Can Live Your Life or It Will Live You": "It may just change your entire life. It may shift the way you look at the every day. It may even become a road map for your life. I loved this book. Cover to cover. Don't miss THIS moment and get a copy today." - AaronConrad.com
"After reading Carlos Whittaker's words, you don't just want to have coffee with him to hear more stories, you want to join his whole family and listen to them tell stories for an entire weekend. It is clear he lives his life with a purpose: he wants to make the most not just of every day, but every moment." - Andra Kee Blog
"From one beautiful Moment Making story to the next, Carlos brilliantly invites the reader into his life and shows what it means to live like Christ in everyday life: intentional." - Joe's Thoughts Blog
About Carlos Whittaker Carlos Whittaker is a renowned musician, thought leader, blogger, and communicator. He has been the worship leader for Andy Stanley's Buckhead Church in Atlanta and is on the leadership team for Catalyst as well as leading worship at many of their events. He currently attends Cross Point Church in Nashville and leads worship there. He and his wife Heather and their children live in Nashville, TN. He blogs at: ragamuffinsoul.com
###
For more info on Carlos Whittaker visit the JFH Artists Database.