COUNTRY MUSIC SUPERSTAR JOSH TURNER TO SIGN COPIES OF HIS FIRST BOOK, MAN STUFF: THOUGHTS ON FAITH, FAMILY, AND FATHERHOOD, ON APRIL 22 AT LIFEWAY CHRISTIAN STORE
Meet the Multi-Platinum Country Music Artist at the Franklin, Tenn. Location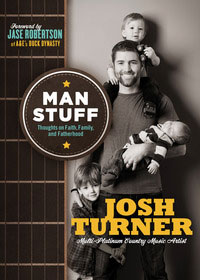 NEWS SOURCE: EB Media
April 10, 2014
NASHVILLE, Tenn. (April 10, 2014) - Country music superstar Josh Turner will be at Lifeway Christian Store, located at 1725 Galleria Blvd. in Franklin, Tenn. (just outside Nashville), on Tuesday, April 22, 2014 from 6:15 pm - 7:15 pm to sign copies of his first book, Man Stuff: Thoughts on Faith, Family and Fatherhood.
Releasing nationwide April 29 with Thomas Nelson, an imprint of Harper Collins Christian Publishing, Man Stuff shares stories Turner has learned over the years as a son, brother, friend, husband and father. "I was raised in a strong Christian family in a tight-knit community in rural South Carolina," said Turner in the book's introduction. "I was taught why being thoughtful, respectful, and considerate of others makes life more fulfilling, and why trusting God with your life's decisions is wise. If all that sounds a little old-fashioned, well, that's because it is. And I'm okay with that."
Jase Robertson, star of A&E's hit television series "Duck Dynasty," provides the foreword for Man Stuff. Last year, Turner sang a duet with Robertson's wife Missy on the song "Why I Love Christmas" from the Platinum-certified holiday album, Duck the Halls: A Robertson Family Christmas.
The book signing begins at 6:15 pm and ends at 7:15 pm and is free and open to the public.
About Josh Turner:
One of country music's most recognizable hit-makers earning numerous CMA, ACM and GRAMMY nominations since the release of his debut album, Long Black Train, Josh Turner has sold more than five million albums (including the double-platinum certified Your Man), and garnered four No. 1 hits (including three multi-week chart-toppers): "Your Man," "Would You Go With Me," and "Why Don't We Just Dance" (a four-week No. 1 that was named the most-played song of the year in 2010 by MediaBase). His song, "All Over Me," from Haywire also reached the top spot on the charts, making him one of only seven country artists to have two No. 1 hits in 2010 and received BMI's Song of the Year and ASCAP's Top 5 Most played songs of 2011.
Celebrating one of his fastest-rising singles and Billboard's year-end top country song, "Time Is Love," Turner released his fifth studio album, Punching Bag (6/12) which debuted at No. 1 on the Billboard Country Albums Chart. The Associated Press says, "With Punching Bag, Turner once again proves he ranks among the most effective -- and most hard-core country -- performers of his generation." In August of that same year, he released his second live album exclusively with Cracker Barrel Old Country Store®, Live Across America. This year Turner added author to his list of accomplishments. His first book, Man Stuff: Thoughts on Faith, Family and Fatherhood comes out April 29, 2014 and his sixth studio album is expected to follow later this year.
A Hannah, S.C. native, and one of the youngest members to be inducted into the distinguished Grand Ole Opry, Turner has been songwriting and performing since he was a young child, and in support of music education, created The Josh Turner Scholarship Fund to assist students interested in pursuing a future in arts and music. As a high school student, he had very little access to music education, therefore realizes first-hand the importance of arts education in schools. For more information on Josh Turner including a list of his upcoming tour dates, visit www.JoshTurner.com.
Thomas Nelson is a world leading publisher and provider of Christian content and has been providing readers with quality inspirational product for more than 200 years. As part of HarperCollins Christian Publishing, Inc., the publishing group provides multiple formats of award-winning Bibles, books, gift books, cookbooks, curriculum and digital content, with distribution of its products in more than 100 countries. Thomas Nelson, is headquartered in Nashville, TN. For additional information visit www.thomasnelson.com.
###