CLOSE YOUR EYES PREMIERE NEW MUSIC VIDEO TODAY, APRIL 21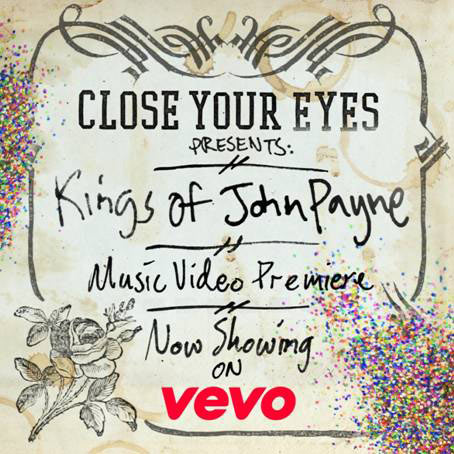 NEWS SOURCE: Victory Records
April 21, 2014
CLOSE YOUR EYES premieres their brand new music video for the track "Kings Of John Payne" on VEVO. Taken from their latest album Line In The Sand, CLOSE YOUR EYES have combined punching lyricism with impassioned harmonies to create a truly dynamic, refreshing hardcore experience.
Watch "Kings Of John Payne" now!
CLOSE YOUR EYES have released an EP, Prepackaged Hope, which can be found now via iTunes and AmazonMP3. For more from Line In The Sand, head over to VictoryMerch.com and order your copy today.
Stay tuned for a massive summer tour announcement - more to come this week!
For Additional Information on CLOSE YOUR EYES:
http://www.victoryrecords.com/closeyoureyes
https://www.facebook.com/cyeband
"Kings Of John Payne"
"The End" feat Zoli
"Frame And Glass"
Upcoming Tour Dates:
Apr 22 - Lake Worth, FL @ Club Propaganda
Apr 25 - Curitiba, BR @ Hangar Bar
Apr 26 - Rio De Janerio, BR @ Planet Music
Apr 27 - Sao Paulo, BR @ Outs
Apr 28 - Buenos Aires, AR @ Roxy Live
Apr 29 - Santiago, CL @ Domo San Diego
Apr 30 - Lima, PE @ El Soltano
May 02 - Quito, EC @ Casa Humboldt
May 03 - Medellin, CO @ Accion Impro
May 04 - Bagota, CO @ Latino Power
###
For more info on All Sons & Daughters visit the JFH Artists Database.