Newsboys Pay Homage to Mother's Day with Single
"That Home (A Tribute To Moms)" Available Now
"We Believe" continues to climb the charts, hits No. 3 spot

Newsboys perform mega-hit "God's Not Dead"
on Huckabee on Fox News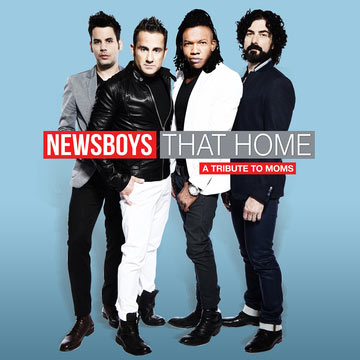 NEWS SOURCE: The M Collective
May 7, 2014
Nashville, Tenn. (May 7, 2014) - Four-time GRAMMY®-nominated band Newsboys pay homage to mothers everywhere with the release of their single "That Home (A Tribute To Moms)" in honor of Mother's Day this weekend. The new track, which was recorded originally for Newsboys' latest album Restart, features clips of fans sharing their favorite thoughts and memories about their moms. The song holds a special relevance for lead singer Michael Tait:
"'That Home' is a song about moms everywhere. My mom passed away in September of 2013," said Tait. "The lyrics talk about how in that home she would cook us our favorite meal, how her love for us had no end and how important it was to her to see her kids be saved and know Christ. That's the kind of mom that my mom was."
"That Home (A Tribute To Moms)" is available now:
iTunes: http://smarturl.it/TributeToMoms
Lyric Video: https://www.youtube.com/watch?v=cyZVpi-oLm4
Newsboys' inspiring message continues to echo in their current single "We Believe." The song has skyrocketed up the charts, moving into the Top 3 spot this week on the National Christian Audience chart, reaching an audience of over 8 million. Upon its release, "We Believe" gave Newsboys their strongest add week ever, picking up adds from 64 radio stations.
In addition, Newsboys performed their No. 1 mega-hit "God's Not Dead" last weekend on Huckabee on FOX News. Governor Mike Huckabee joined the band to play bass on the track that inspired the movie "God's Not Dead." The movie is currently in theaters and has grossed more than $53 million worldwide. To view Newsboys' performance on Huckabee, visit: http://www.foxnews.com/on-air/huckabee/index.html#/v/3542148264001
For more information about Newsboys, visit www.newsboys.com.
About Newsboys:
Four-time GRAMMY®-nominated band Newsboys boasts an impressive track record with 16 albums, five gold certifications, 30 No. 1 radio hits and over 8 million units sold over their multi-decade career. This rock and pop-driven worship band includes front man Michael Tait (vocals) and his band mates who've played together for two decades - Jody Davis (guitar), Jeff Frankenstein (keys) and Duncan Phillips (drums). Their 2010 release, Born Again, saw the largest street week of their careers, debuting at No. 4 on the Billboard 200 and garnering three No. 1 hits. Their 2012 record, God's Not Dead, has sold over 300,000 copies and it's title song, "God's Not Dead," topped the CHR radio format for seven weeks in a row. Renown for their heart-pumping live concerts, the tight knit Newsboys unit continues to headline shows in the U.S. and around the world. Their pop-spirited third album with Michael Tait at the helm, Restart, is available in stores now.
[Get Connected with Newsboys]
Website // www.newsboys.com
Facebook // www.facebook.com/newsboys.official
Twitter // www.twitter.com/Newsboys
iTunes // www.smarturl.it/iTunesRestart
For more info on Newsboys visit the JFH Artists Database.