Archers Rise Releases "Jupiter Bound" EP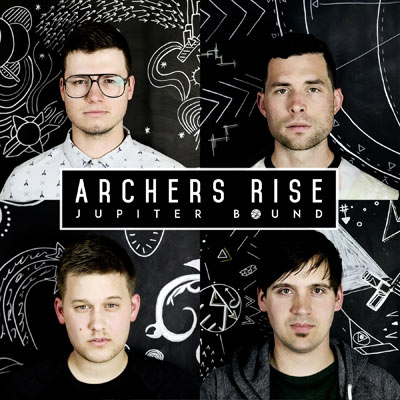 NEWS SOURCE: Save The City Records
June 3, 2014
Seattle, Washington (June 3, 2014) - Save the City Records is proud to announce the availability of the new album from Archers Rise "Jupiter Bound", featuring Tom Cox, former guitarist of the best-selling band Falling Up. The band is also hosting an album release party at their hometown in Corvallis, Oregon at the Benton County Fairgrounds on June 5th at 6:30pm. Archers Rise "Jupiter Bound" is currently featured on iTunes "New and Noteworthy" and is available on other digital download outlets (iTunes), and via a special edition CD only available at Archers Rise shows and the Save the City Records eStore.
The recording captures the band's passion for growth and exploration. Jupiter Bound was funded via Kickstarter by a steadfast support base, mainly from Corvallis, Oregon and the surrounding region. After completing the record with producer Jeff Schneewies and engineer Stephen Pettyjohn, the band signed a licensing and distribution agreement with Save The City Records. The single, "Sway With Me," is creating buzz and found its way onto RadioU's "Top Ten Most Wanted List."
Archers Rise has been strongly influenced by the anthemic, arena rock sounds of Coldplay, One Republic, Switchfoot, and Imagine Dragons. But more than that they consider each of these bands as standards to aim for; what it looks like to be a band with integrity in a world of compromise. Archers Rise has also adopted heavy percussive elements akin to X Ambassadors "Unconsolable" and "Love Songs Drug Songs" as well as digital/EDM inspiration from the likes of Ellie Goulding's, "Figure 8."
The songs on Jupiter Bound are diverse, ranging from the title track, which embodies the story of the group voyaging to Jupiter, known as king of the planets, to "Pockets" and "Hello Sweetpea"; light-hearted songs whose melodies and lyrics capture the brightness and enchantment of a blossoming romance. "Mirrors" has a darker sound and the content deals with the tension between what we know to be right and what we are often tempted to do. "Sway With Me," is the band's response to a challenge from producer Jeff Schneewies to write a song he would listen to while driving his car in the summer with the windows down. Ivy brings a more visceral element to the recording as it was written based on a dream singer/guitarist Tom Cox had about his, at the time, unborn daughter Ivy Charis, and his pledge to be there for her, always.
Archers Rise is deeply grateful for the community surrounding them. Drummer/singer Jeremiah Wilson captures these sentiments in his comment, "the listeners are the most important part of Archers Rise." Relationships are indeed important to the band, internally and externally, as Tom remarked, "There is a powerful movement when you advance in unity. I feel this group has such a strong unity and love for one another."
Keep up with all the latest news on Archers Rise...
http://www.archersrise.com
http://facebook.com/archersrise
http://twitter.com/archersrise
About Save The City Records
In 1997, Derek Hoiem had a vision to assist musicians in local churches, and having been a software designer for Microsoft, he knew that the digital wave would bring massive change to the music industry. After investigating music business models, he found that record labels were necessary but needed to change by adopting the indie wave. After recording and working with indie artists for about 5 years, in 2008, Hoiem launched Save the City Records as a national brand. After garnering critical acclaim on iTunes and media outlets, Save the City Records landed a distribution deal with Provident Distribution. Over the last several years, the company has picked up more artists who have been featured on iTunes, played on national radio, ranked on the Billboard charts, and featured at national music festivals.
http://savethecityrecords.com
http://facebook.com/savethecityrecords
http://twitter.com/savecityrecords