NORTH POINT MUSIC LAUNCHES FIRST NATIONAL SONGWRITING CONTEST, "SING IT SUNDAY"
Winning Song to be Performed at Upcoming Catalyst Conference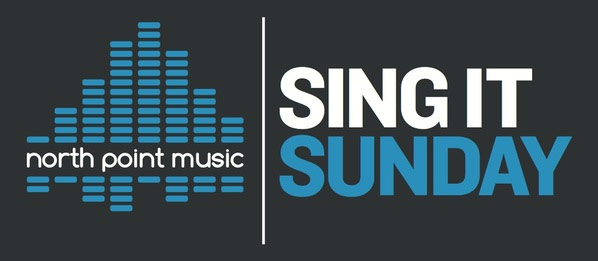 NEWS SOURCE: Savvy Media
June 3, 2014
(NASHVILLE, Tenn.) June 3, 2014-North Point Music, a ministry of North Point Community Church in Alpharetta, Ga., hosts its first national songwriting competition, "Sing It Sunday." The winning song will be performed at Catalyst Atlanta 2014 this fall in front of 13,000 church leaders and be featured on www.SingItSunday.org.
North Point Music acknowledges the current abundance of independent Christian music talent, recognizing that not every singer-songwriter or worship leader has the funds to record and tour their music. The "Sing It Sunday" contest gives those artists an opportunity to submit their best songs for consideration by a panel of judges-worship leaders, musicians, pastors, songwriters, music industry executives, service and live event producers, executive producers-with more than 70 years combined experience in music and church leadership innovation.
Matt Williams, director of the North Point Music Label and North Point Music Publishing, comments "Most of us know gifted songwriters who have written a worship song we love but that may never be heard outside our own church walls. We want to give those artists and their songs a national platform, one that will reach a broader audience and hopefully benefit churches everywhere." The contest is now open to entrants. Songs must be submitted online by July 15, 2014. In addition to national exposure at Catalyst Atlanta 2014, the winning song's chart kit will be made available via download to churches worldwide.
For more information and to submit your song, visit: www.SingItSunday.org.
About North Point Music
In 2010, North Point Community Church launched North Point Music to bring local worship leaders, musicians and songwriters together to inspire a generation and influence the church. The record label and music publishing company was birthed out of one of the largest churches in North America. Led by best-selling author, communicator and pastor, Andy Stanley, North Point Ministries is one of the fastest-growing and most influential Christian organizations in America. With five Atlanta-area churches, North Point Ministries brings together more than 33,000 adults each Sunday. In addition, the church has strategic partnerships with more than 30 churches domestically and internationally, and the ministry receives in excess of 1.8 million requests for broadcast content each month. For more information, visit: www.northpointmusic.com.