Unspoken Reaches Top 20 on Every Billboard Christian Radio Chart and Billboard's Current Contemporary Christian Album Chart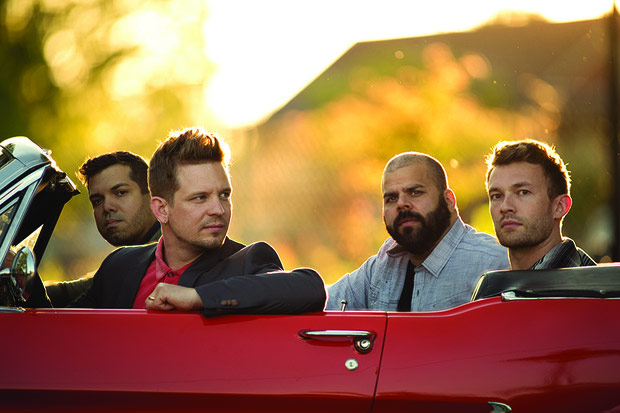 NEWS SOURCE: Bozeman Media
June 3, 2014
Nashville, TN (June 3, 2014) ----- Centricity Music's modern pop band, Unspoken, has reached another milestone in their stellar career. Their latest single, "Start A Fire," climbed to the Top 20 on every Billboard Christian radio chart; NCA, AC Monitor, AC Indicator, CHR and Soft AC. At the same time, their self-titled full-length album has also reached the Top 20 on Billboard's Current Contemporary Christian Album chart. Unspoken reached Top 20 in its second week of release and has stayed in the top 30 since then, with the project being sold exclusively at retail through Lifeway Christian Stores April 1st through July 8th, and at all online music outlets. "Start A Fire" went for radio adds on April 11th and broke out strong at AC Indicator and on Billboard's NCA chart.
"I look at the three year journey we have been on with Unspoken, the hard work they have put in to get to this point and I get excited for the band," says Steve Ford, Vice President of Marketing, Centricity Music. "They have toured extensively, shook a lot of hands and kissed a lot of babies while out on the road, all in the name of building a solid foundation for the band and their ministry. To look at the sales and radio charts and see them in the Top 20 of every chart gives a lot of credence to the idea that it takes years to be an overnight success."
Unspoken has an active touring schedule this summer that included a recent KSBJ Brown Bag Concert in Houston, TX where over 1500 fans showed up for the live concert. And fans were again treated to music from Unspoken at last week's K-LOVE Fan Experience in Nashville, TN as Unspoken performed at one of the Fan Zone events. This fall, Unspoken will join With Every Act of Love Tour with headliner Jason Gray, Lindsay McCaul and Carrollton. For updates on Unspoken please visit online at www.unspokenmusic.com or follow the band on Facebook: www.facebook.com/unspokenmusic and Twitter: @unspokenmusic.
About Unspoken
Unspoken, a successful indie band before signing with Centricity in 2011, released its first label EP, Get To Me, June 2012. The project's lead single, "Who You Are," became a Top 4 radio hit, earning Unspoken a number of high profile appearances, including a performance at the Christian Music Broadcaster's premier event, Momentum. The following year, Unspoken released its second EP, The World Is Waking, which produced the Top 5 single "Lift My Life Up." Its first full-length, self-titled project released April 1, 2014. The group remains an active touring band having performed alongside Big Daddy Weave, Sanctus Real, and Chris August, among others, while also headlining many fundraising concerts in support of Celebrate Recovery, an organization that helps recovering addicts.
About Centricity Music
Centricity was founded in 2005 with a commitment to artist development and stylistic diversity. Based in Franklin TN, artists include Aaron Shust, Andrew Peterson, Carrollton, Jason Gray, Jonny Diaz, Lauren Daigle, Lindsay McCaul and Unspoken. The company's mission is to enable their artists to create life-changing experiences for the world. Providing label, management and publishing services, Centricity is a family owned organization and they like it that way. For more information on Centricity Music, please visit: www.centricitymusic.com.
For more info on Unspoken visit the JFH Artists Database.