DOVE AWARD WINNER CAROLYN ARENDS EXCEEDS KICKSTARTER GOAL BY 260% FOR NEW CHRISTMAS ALBUM
Singer/Songwriter and Author Partners With Fans To Complete
Christmas: Story of Stories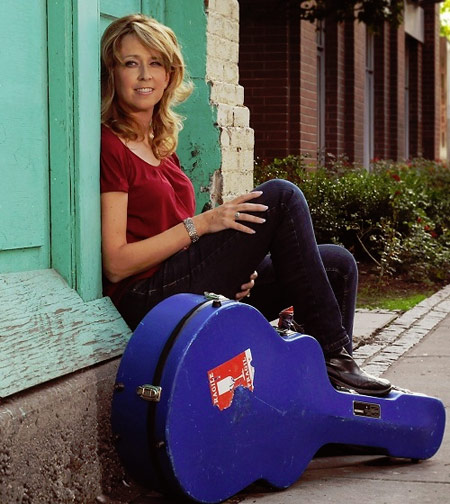 NEWS SOURCE: McCain & Co. PR
June 17, 2014
NASHVILLE, Tenn. (June 17, 2014) - More than 385 fans helped Dove Award-winning singer/songwriter and author Carolyn Arends exceed the original Kickstarter goal by 260 percent to fund the production of Arends' 11th album, a Christmas CD titled Christmas: Story of Stories. The Kickstarter campaign ended June 13 with a total of $28,691 raised.
The Canadian recording artist partnered with her fans through the innovative crowd-funding program, launching the Kickstarter campaign in May. Contributors met the initial $11,000 goal in one day; additional funds raised will go towards additional areas, such as radio promotion.
"I am blown away by the response to our Kickstarter campaign," says Arends. "Conversations with people all over the world who believe in this music have left me feeling grateful, encouraged, inspired and commissioned. We funded 260 percent of our original goals, which is allowing us to do some very special things with the music. I can't wait to share this Christmas record."
Christmas: Story of Stories is set for an October 15 release.
"Although this will be my 11th album, I'm at least as excited as I was recording my first, for several reasons," Arends says. "First, I love Christmas. One of the songs is called 'Everything Changes at Christmas' and that's the truth of it--people get warmer, friendlier and more open to the heartbeat of the gospel that time of year. Second, this will be my first full-length recording in five years. I've enjoyed my 'studio sabbatical,' which has been spent touring, teaching college courses, writing, and being a Regent College student. But now that I've completed my master's degree, I have the freedom to return to recording. I'm realizing how much I've missed it!"
About Kickstarter:
Hundreds of individuals have raised capital through the Kickstarter business model, including Christian musicians Shaun Groves, John Schlitt and Cheri Keaggy. The movie adaptation of Donald Miller's Blue Like Jazz received $345,992 (276% of its original goal) from more than 4,495 donors through Kickstarter to make it one of the largest crowd-funded films in history, according to Paste Magazine and Kickstarter's website. For more information about Kickstarter, visit kickstarter.com.
About Carolyn Arends:
Carolyn Arends has released 10 albums and is the author of three critically-acclaimed books. Fifteen of Arends' songs have become Top 10 radio singles on the Canadian pop and U.S. Christian charts. Arends has earned two Dove Awards, three Juno Nominations, and was recognized as the West Coast Music Awards' Songwriter of the Year.
Arends' most recent musical project, Love Was Here First (2009), was nominated for a West Coast Music Award and six Covenant Awards.
Theology is Aisle Seven, Arends' most recent book, published in 2012, is a collection of four years of Arends' award-winning Christianity Today columns. The e-book offers sharp, creative glimpses into a full-orbed Christian spirituality. Arends' prose has been recognized repeatedly by the Evangelical Press Association, The Word Guild and The Canadian Church Press Association.
Arends has a Master's Degree in Theological Studies from Regent College and a B.A. in Psychology and English from Trinity Western University. She lives in Surrey, BC, with her husband, Mark, and their two children, Benjamin and Bethany. In addition to her busy concert and speaking schedule, she is a college instructor and columnist. For more information, visit carolynarends.com.