Critically-acclaimed Author Heather Letto to give away new book in August
"Fans of THE HUNGER GAMES and DIVERGENT will simply adore IMPERVIOUS..." -- Pretty Little Pages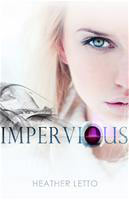 NEWS SOURCE: Adams Group
July 8, 2014
Nashville, TN -- Heather Letto, author of the new young adult fiction book entitled Impervious (Bookfish), is offering readers a chance to download her entire book for free, one chapter each day,during the month of August. Additionally, Letto has created a bible study that is also available for free. The study guide expands on the topic of heaven that the fictional tale of the city of Impervious represents. Letto says the main theme of Impervious revolves around heaven and earth and what happens after death, but it also depicts issues that afflict many teenagers and youth.
"Young adults often struggle with fitting in," says Letto, "so another dominant theme in the book is about resisting peer pressure to find truth. Sometimes on our search for truth, the path may seem very shadowed, confusing or lonely, so a theme of perseverance and bravery is also found with the heroine, Fran. Finally, finding The Reader is a monumental experience for our heroine in the story. The Reader symbolizes the bible in our own society. Therefore, believing in what you can't see, a.k.a. faith, is another major theme."
Letto says Impervious is the first of three installments in what is being called the "Ascension Series." Letto says book two will introduce the character of Retter which will represent a "savior"figure, and the third book will show an allegory of the Holy Spirit and move into the final destruction of the city. Letto hopes the free bible study will help readers connect the dots.
"My heart's desire with this series is to point non-believers to the one true God of the bible," Letto explains, "so helping readers unpack the parallels between this allegory and the Bible is twofold. One, I hope the bible study will help educate Believers to use Impervious as an evangelistic tool, and two, to enlighten non-believers. I lived the first half of my life as a nonbeliever and just went along with a basic carnal mindset. Like the book's heroine, at one point in life, I traversed through dark tunnels on the 'fringe' of society. But also, like our protagonist, that is when I also 'bumped into' the bible, discovered something amazing, and felt compelled to bring that message to those who had been blinded as I had."
Letto was a journalist for the Chicago Daily Herald for several years. She has contributed articles for WHOA Women magazine, Tween Girls and God, Devotion magazine, The Haven Journal, and The Fit Christian, among others. To access the free downloadable content, visit www.HeatherLetto.com.
###