NATALIE GRANT IS HAVING A STELLAR SUMMER; SINGER/SONGWRITER MAKES SILVER SCREEN DEBUT WITH PERSECUTED, SET TO ARRIVE IN THEATRES NATIONWIDE ON FRIDAY, JULY 18TH;
IT TAKES A CHURCH CONTINUES HIGHLY RATED RUN ON GSN; GRANT-HOSTED MATCHMAKING SERIES PROVES SUMMER SUCCESS, WITH NEW EPISODES AIRING THURSDAYS AT 9/8C ON GSN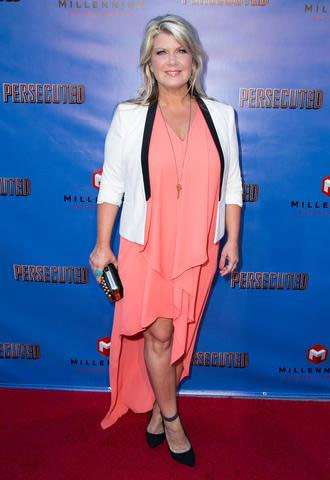 NEWS SOURCE: Plan A Media
July 17, 2014
Curb recording artist Natalie Grant is enjoying an extraordinary summer, highlighted by the long anticipated premiere of the new One Media, LLC/Millennium Entertainment motion picture, Persecuted, set for national release tomorrow, July 18th. Produced by multiple Oscar®-winner Gray Frederickson (The Godfather Trilogy, Apocalypse Now) and writer/director Daniel Lusko, the faith-based action-thriller sees the award-winning singer/songwriter in a supporting role alongside James Remar, Bruce Davison, Dean Stockwell, Gretchen Carlson, and Fred Thompson. For additional details, including nationwide theatre information, please see www.Persecutedmovie.com.
Grant was among the stars assembled at Los Angeles' ArcLIght Hollywood for last night's world premiere of Persecuted. (Photo Above)
Persecuted is already among the year's most talked about new films. The recently released trailer quickly ascended to No. 1 on iTunes Movie Trailers' "Most Popular" list, noted by The Hollywood Reporter as "a feat insiders attribute to a robust Facebook page and the ripped-from-the headlines themes that the movie explores." Furthermore, FOX News declared Persecuted to be a "timely thriller," while Politico praised the film as a "House of Cards for the religious set."
"I chose to be a part of this movie, not because I was trying to grandstand on any particular issue, but honestly, because I thought it would be fun and different and a challenge for me," Grant recently wrote on her own popular Facebook page (facebook.com/nataliegrantmusic). "However, I also decided to do it because I have personally experienced that some who are screaming loudest for tolerance are the ones who are displaying the greatest intolerance. I do not believe you can legislate morality, and I am not a proponent of trying to force my beliefs or view of righteousness on anyone. I'm much more a proponent of living what you believe, instead of shouting it or waving it on a sign."
In other news, Grant will make a special guest appearance on tonight's season finale of The American Bible Challenge, airing at 8/7C exclusively on GSN. Comedian and author Jeff Foxworthy hosts the one-hour game show in which contestants compete based on their knowledge of the bible. Grammy®-winner Kirk Franklin serves as musical co-host.
Meanwhile, It Takes A Church - the new matchmaking series hosted by Grant - continues its hugely popular first season on GSN. The highly rated series, which sees Christian congregations across the country play matchmaker to help an unattached fellow parishioner find their partner, recently received the Dove "Family-Approved" Seal for all ages. New episodes of It Takes A Church air Thursdays at 9/8C on GSN - for more, please visit gsntv.com/shows/it-takes-a-church.
An inspired performer known for making lasting connections with her audience, Grant has an array of concert dates and live appearances slated through the fall and beyond. For complete tour details and ticket information, please log on to www.facebook.com/nataliegrantmusic/events.
Natalie Grant is one of contemporary Christian music's most talented and beloved figures, acclaimed around the world for her breathtaking vocal abilities, powerful songwriting, and courageous efforts to help victims of human trafficking. One of the most honored artists in CCM history, Grant is a five-time GMA (Gospel Music Association) Dove Award winner as "Female Vocalist of the Year" (including four consecutive victories spanning 2006 to 2009 and a return win in 2012), as well as a multiple GRAMMY® award nominee.
"HURRICANE," Grant's most recent album, entered Billboard's "Top Christian Albums" chart at #1 upon its 2013 release - the award-winning singer/songwriter's first-ever debut atop the chart. Produced by her husband and longtime collaborator Bernie Herms, "HURRICANE" marks the highlight of Grant's long affiliation with Curb Records, an accomplishment celebrated earlier this year when legendary Curb founder Mike Curb presented her with a special plaque commemorating overall label sales in excess of 3 million. What's more, "Hurricane," the album's chart-topping hit single, received two major nominations from the 56th Annual GRAMMY® Awards: "Best Gospel/Contemporary Christian Music Performance" and "Best Christian Music Song."
In addition to her extraordinary musical career, Grant is also committed to giving voice to the voiceless through a variety of charitable efforts. An outspoken advocate for victims of human trafficking, she is the founder of Abolition International, a non-profit origination that works towards providing quality restorative aftercare to human trafficking victims both domestically and around the world.
For more information, please visit nataliegrant.com, twitter.com/nataliegrant, facebook.com/nataliegrantmusic, instagram.com/nataliegrant, and www.youtube.com/nataliegrantvideos.
###
For more info on Natalie Grant visit the JFH Artists Database.