CHRISTIAN COMMUNITY, INDUSTRY, FANS & FRIENDS JOIN CHONDA PIERCE IN "CELEBRATION OF LIFE" FOR HER HUSBAND, DAVID W. PIERCE
Announcement of Arrangements Set For This Week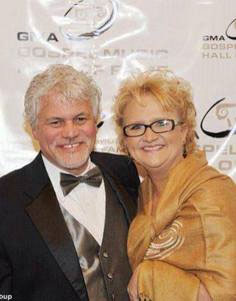 NEWS SOURCE: MorningStar PR
July 24, 2014
(Nashville, Tennessee) –July 24, 2014 – David W. Pierce, husband of Christian comedian Chonda Pierce, is being remembered this week as a devoted and loving husband and father, gifted teacher, accomplished writer, and creative storyteller who passionately loved the pursuit of God and the sharing of the spiritual values he discovered in living everyday life.
A community of family and friends –both close—and those connected worldwide through Chonda' s ongoing series over the past three weeks of heartfelt updates through social media were saddened by the news of David's passing this week on Tuesday, July 22, after suffering the complications of hemophragic bleeding of the brain that followed both a major stroke and heart attack earlier this month.
By his side literally every moment during his hospitalization, Chonda posted earlier this week: "He is in God's hands completely now. I have loved him since I was 16 years old. He is one of the greatest men I have ever known and I have begged God to allow him to stay here—whole and healthy. Thank you for praying with me and believing for me even when my faith was tired and weak."
On his passing, the three poignant words chosen for her post spoke volumes: "David is home."
David W. Pierce grew up in Ashland City, Tennessee and lived in Rutherford Country for more than 25 years. As re-told by her to the thousands of concert-goers entertained by Chonda's comedy over the years, she found the love of her life in David, married her high school sweetheart and became the mother of two wonderful children long before becoming the most celebrated woman in Christian comedy.
David earned an MA in English from Middle Tennessee State University, where he later served as an adjunct professor of English. He also taught at Western Kentucky University and Taylor University in Fort Wayne, Indiana. He is the author of several books including most notably Don't Let Me Go: What My Daughter Taught Me About The Journey Every Parent Must Make, and two highly acclaimed children's books authored with Chonda, Tales From The Ark and Tales From The Manger.
Public visitation will be held today, Thursday July 24, and tomorrow, Friday, July 25 from 3:00 P.M. to 8:00 P.M. eadh day at the Cheatham County Funeral Home, 117 Elizabeth Street in Ashland City, Tennessee. Funeral services will follow on Saturday, July 26 at 11:00 AM at the same location. Graveside services will be private.
In lieu of flowers, the family asks that donations be made to Branches Counseling Center, 1450 Battleground Drive, Murfreesboro, Tennessee 37129. Cards to the family may also be directed to this address.
###
For more info on Chonda Pierce visit the JFH Artists Database.