KATHRYN SCOTT TO RELEASE SING ON THE BATTLEFIELD SEPTEMBER 9, 2014
Title Track Currently Available for Free Download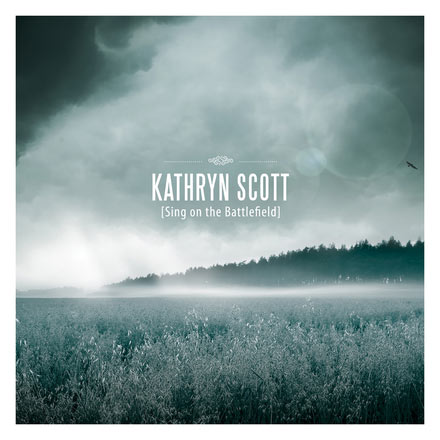 NEWS SOURCE: LW Communications
August 6, 2014
Nashville, Tenn. (August 6, 2014) - Respected worship leader and singer-songwriter Kathryn Scott will release Sing on the Battlefield September 9, 2014, her first project for Fuel Music. The seven-track EP will be available exclusively at all digital retailers, as well as on Scott's official website, www.kathrynscott.org.
Fans can get an early taste of what's to come on the full project with a free download of the title track offered this week only on www.UPTV.com, www.NewReleaseTuesday.com, www.HearItFirst.com and www.JesusFreakHideout.com (download page). The title track is also featured on the multi-artist worship/song discovery compilation, REVERENCE: An Offering (Fuel Music), releasing this week.
Sing on the Battlefield is a testament to God's goodness in the midst of life's unforeseen circumstances. As worship leaders at Causeway Coast Vineyard Church in Ireland, Scott and her husband, Alan, have a front row seat to the way God works in the midst of their congregation. The title track serves as both a battle cry and a prayer of surrender as Scott guides listeners to Jesus standing on the battlefields of our lives. The EP also features revered singer-songwriter Paul Baloche on "We Still Believe" and an acoustic version of "Sing on the Battlefield."
"I am so excited for you to hear this new recording," Scott says. "It's a collection of songs that feels more like a worship set than an album, declaring the solid goodness of God in the midst of the struggle."
Scott will tour the U.S. in support of the album, with dates on the East Coast this fall. For more information, visit www.kathrynscott.org.
ABOUT KATHRYN SCOTT
Known for penning well-known worship anthems like "Hungry" and "At the Foot of the Cross," Kathryn Scott has earned respect from fellow artists and worshippers alike as an acclaimed songwriter. She studied theology at Elm Bible College in England and trained under acclaimed singer/songwriter/worship leader Brian Doerksen. She and her husband, Alan, currently reside in Ireland, where they lead worship at Causeway Coast Vineyard Church, a congregation they helped to plant. Scott has released three full-length albums through Integrity Music (Satisfy, I Belong and We Still Believe) and is slated to release her debut independent EP, Sing on the Battlefield, September 9, 2014, via Fuel Music.
ABOUT THE FUEL MUSIC
The Fuel Music & Management, LLC, is one of the leading independent distributors of music, CD's, tapes and vinyl records internationally and enjoys a growing base in artist merchandise sales. Based in Tennessee, the Fuel team brings nearly 50 years of combined music industry experience in record label operations (Furious? Records), record distribution and marketing (EMI Label Group), and artist management for artists ranging from upstart bands to Dove and GRAMMY Award nominated, multi-platinum artists. More information on the company can be found at www.thefuelmusic.com.
# # #
Connect with Kathryn Scott:
Official Website: www.kathrynscott.org
Facebook: www.facebook.com/kathrynscottmusic
Twitter: @kathrynscott
Instagram: @mrskscott
Live Version of "Sing on the Battlefield": http://youtu.be/IyVP1ImEj9s