BEC RECORDINGS' CITIZENS ANNOUNCES NEW MONIKER "CITIZENS & SAINTS"
SOPHOMORE ALBUM JOIN THE TRIUMPH SET FOR OCTOBER 28;
SIGNS WITH WILLIAM MORRIS AGENCY FOR BOOKING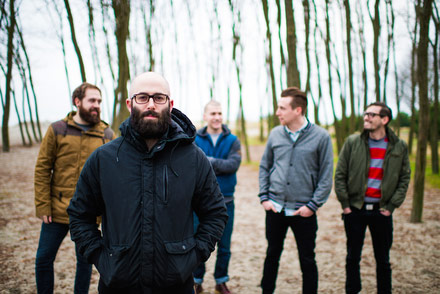 NEWS SOURCE: Merge PR
August 7, 2014
SEATTLE, WA - August 07, 2014 -BEC Recordings' announces a new name for their worship band Citizens to Citizens & Saints. In addition to the new moniker, Citizens & Saints has set the release date for their sophomore album, Join the Triumph, on October 28 on BEC Recordings.
The new project follows the highly praised self-titled debut CITIZENS, which hit Billboard's Top Heatseekers chart at No. 6. The debut has sold nearly 30,000 albums that were helped by the success of their radio single "Made Alive" that charted for more than 15 weeks in the Top 10 on Air1.
This sophomore album brings a new chapter for the band with frontman Zach Bolen no longer on staff at Mars Hill, their name change announcement and recently partnering with William Morris Agency on the booking side of things. The band is currently looking for dates this Fall and Spring 2015. If interested in booking Citizens & Saints, you can reach out at WME Entertainment (infocmg@wmeentertainment.com). After releasing their earlier projects, it came to their attention that there was a UK band that was already working under the Citizens name. In a season of change, the band prayerfully renamed the group to "Citizens & Saints."
"Shortly after our first independent release 'Already/Not Yet' it came to our attention that there was another band in the UK with the same name. While both bands are in two separate genres we recently came to an agreement with 'Citizens!' of the UK that the best move for both bands moving forward was for us to change our name," explains Zach. "For starters, we want to support our friends in 'Citizens!' as they are making some incredible music and in fairness, have been a band operating under that name longer than we have. Secondly, in the end we knew that higher than our band name, is the name of Jesus. So after some careful study of the Word and prayer we have decided to change the name to 'Citizens & Saints.'"
The band originally got their name from the passage Ephesians 2:19, a celebration passage. "Moving forward we feel as though 'Citizens & Saints,' better exemplifies this passage. It is our goal to be clear in our presentation of the gospel. We believe the fruit that comes from this ministry is not limited to only God's people or churches singing praise to him, but as well as plays a huge part in the preaching of the gospel to sinners whom Jesus will redeem as His Saints.
Citizens & Saints hope their music can do one thing-unite the Church by proclaiming the gospel through song and Join the Triumph is the message they want to convey. It's a message Zach and his bandmates, Nate Garvey (keys), Nathan Furtado (bass), Spencer Abbott (guitar), Jeremy Kelderman (percussion), Adam Skatula (drums) and Brian Eichelberger (co-writer/producer/keys), have woven into their sophomore release. Join the Triumph reminds the local church that they're part of the big-"C" Church-a victorious body whose sole job is to proclaim God's Kingdom across the Earth. This lesson in unity is one playing out in the band itself. While the band was formed in 2011 when Zach served as the worship leader for Mars Hill U-district campus in Seattle, his departure from his position with the mega-church in 2014 led to a defining moment when the band made a "strong commitment to one another" to continue making music-no matter where they live, work and attend church with their growing families.
Two of the band members remain on staff with Mars Hill: Brian as a producer and Nate as a worship director. Zach feels this only serves to make their message of unity more compelling. "I think that just shows the unity that Jesus brings in the Church. The primary thing for us will always be to serve the local church whether or not Citizens & Saints is playing together as a band at a specific church."
More information soon to follow on Join the Triumph from Citizens & Saints.
###
For more info on Citizens & Saints visit the JFH Artists Database.